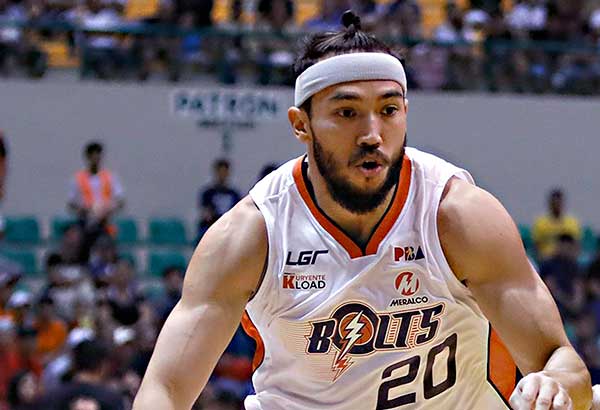 Dillinger set to unleash fury
MANILA, Philippines — For Meralco swingman Jared Dillinger, playing in the PBA Governors Cup Finals against Barangay Ginebra is what he's dreamed of for a year and now that the time for revenge has come, it takes a special meaning because the Fil-Am Daredevil is dedicating the chase for the crown to his ailing grandmother.
Dillinger, 33, sat out the previous Governors Cup Finals that Ginebra won over Meralco in six games because of a hamstring injury he suffered in Game 2 of the semifinals against TNT KaTropa. Now that he's back in form, Dillinger said he can't wait to get back at Ginebra. Game 1 of the best-of-seven Finals is set in Lucena tomorrow.
"I want to beat these guys so bad," said Dillinger who's in his ninth PBA season looking for his sixth championship and first with Meralco. "I've been kicking myself in the butt for the past year since missing out in last year's Finals. I couldn't have wanted this year's Finals any other way."
Dillinger isn't the only player in Meralco's current lineup who didn't see action in last year's Governors Cup Finals. Ranidel de Ocampo, Mike Tolomia, Garvo Lanete, Joseph Yeo, Simon Atkins and Joseph Sedurifa were the others. For Ginebra, Greg Slaughter leads the cast of players who didn't play in the previous Governors Cup Finals. The others are Kevin Ferrer, Paolo Taha, Jammer Jamito and Raymond Aguilar.
Dillinger said Slaughter's return from ACL surgery in the right knee isn't a concern. In the eliminations, Meralco beat Ginebra, 93-78, with Slaughter collecting 14 points and 14 rebounds. Dillinger matched Slaughter's output with 14 points off the bench. Meralco import Allen Durham outscored Ginebra counterpart Justin Brownlee, 18-13. That was their first game of the conference and a lot has since transpired in getting both teams battle-ready for the Finals.
"Greg's a great player but I could care less at this point," said Dillinger. "I'm focused on our team and our guys. We've been wanting to get revenge for over a year now. I have no predictions. I don't care what it takes. Whether it's four or seven games, as long as we're the winners. That's all that matters to us."
Dillinger is well-armed for the playoffs. During the eliminations, he averaged 8.8 points but in the playoffs, he's hitting at a 14 point clip. Dillinger scored his conference-high 18 points in Game 2 of the semifinal series against Star and knocked down 6-of-8 triples in the Bolts' 98-74 win.
Dillinger said he's dedicating the Finals to his grandmother Teresa Macagba Bautista who turns 87 on Sunday. She lives in California and can't eat solid food anymore after suffering multiple strokes. "My lola, whom we call Mamang, is fighting to stay alive just to watch and hear the Finals," he said. "This is for her. This conference has been tough these past two months because we know Mamang is going to pass away soon. I'm just trying to do my part to win this championship. I want this one so bad."
Meralco assistant coach Jimmy Alapag, who'll finish the season with the Bolts before moving to Alab Pilipinas as head coach in the ABL, said he's excited about the rematch. "You have two great teams who played in a very competitive Finals last season, now with the opportunity to rekindle the rivalry," said Alapag.
"I would love to see Meralco win its first championship. Even though I'll shift my focus to Alab after the season, I'll definitely stay connected with coach Norman (Black) and the team. Our guys have worked hard all year and hopefully, the Finals experience from last season will help us in our preparation this time around."
Alapag said the maturity of second-year guards Baser Amer and Chris Newsome has made a difference in Meralco's push for the title. "It's been great to see the growth of Chris and Baser these past two years," he said. "It's always a unique opportunity for two great young players to get the chance to match up against L. A. Tenorio, one of the best point guards of this generation. I'm expecting a very competitive and entertaining Finals. Hopefully, this year, we can finish with the championship."
Alapag said he's not sure to rejoin Meralco after the ABL season but what's certain is he'll be in close contact with Black and the rest of the Bolts coaching staff. There is also a special meaning to the Finals for Alapag because his last game as a PBA player was in Game 6 of the previous Governors Cup Finals which Ginebra won, 91-88, to clinch and this will be his farewell to the PBA before crossing to the ABL.