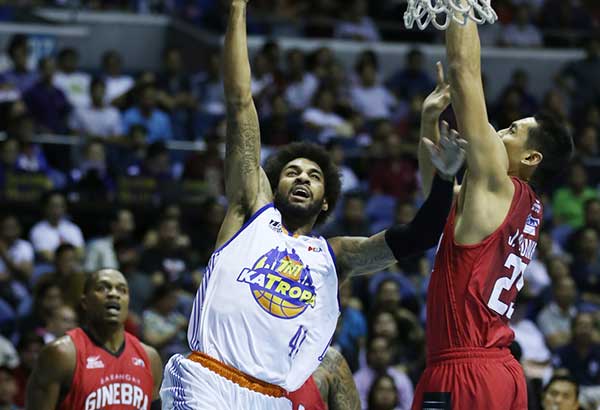 TNT imposes stiff sanction on Rice
MANILA, Philippines – The TNT KaTropa management didn't condone Glen Rice's misbehavior in Game Four of their PBA Governors Cup semifinal showdown with Barangay Ginebra, issuing a heavier team sanction aside from the one earlier assessed by the PBA Commissioner's Office on the erring import.
The MVP Group franchise imposed a hefty fine of $10,000 (P514,000) on Rice whose outburst caused his ejection from the game and subsequently the team's title bid to slip away.
"His undesirable, unprofessional, unruly and sportsmanlike behavior adversely affected not only the team's image but the brand and corporate reputation of the PLDT Group as well," the team management also said in a statement.
"His behavior during TNT's last game constitutes willful violation and breach of his contract," the statement said.
"Mr. Rice as a professional player, promised to comply with all the team's rules and regulations and to act or conduct himself in a gentlemanly manner at all times so as to project a totally wholesome image for the team and the PLDT Group," the statement added.
Team manager Virgil Villavicencio said they're deducting from his final compensation the amount of the PBA fine plus the team fine.
Commissioner Chito Narvasa earlier assessed Rice a fine of P26,000 for his technical infractions and for disrespecting team and league officials.
After his infractions on Ginebra player Kevin Ferrer, Rice had a verbal altercation with TNT governor Patrick Gregorio.
"He flew home without issuing an apology," said Villavicencio.
The TNT team manager said they have informed Rice's agent of the sanctions, and the Rice camp didn't complain.
The team management said they issued the fine "without prejudice to whatever legal right TNT may have against Rice for damages and other available remedies under our contract."