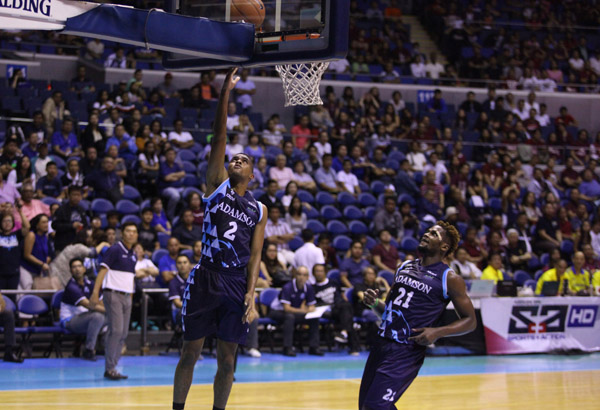 Adamson University's Jerrick Ahanmisi soars for a basket with Papi Sarr just behind. | Philstar.com File Photo
Falcons seize 4th straight win, claw Tams
MANILA, Philippines — Adamson University cruised to their fourth straight win after a wire-to-wire victory over Far Eastern University, 95-79, in the night cap of Saturday's UAAP action at the MOA Arena.

Jonathan Espeleta and Jerrick Ahanmisi scattered 17 points each to pace the San Marcelino-based crew. Papi Sarr, Rob Manalang and Jeri Pingoy finished in double-digit scoring to reinforce the effort.

The Tamaraws managed to cut down to 12 the Soaring Falcons' 25-point cushion, which proved to be too much of a lead to surmount for the Olsen Racela-mentored squad.

"We survived a brutal week. Credit to my coaching staff, because we really scouted opposing teams. Same thing with the players, the were able to play with the same intensity," shared Adamson mentor Franz Pumaren.

"I think that's just how we play. We always try to look for each other. Coming to every game, we try to listen to what coach says and help each other always," Ahanmisi said of the team's prolific first half shooting.

Adamson registered 61 points going into the halftime break. The edge they enjoyed in the third frame was courtesy of a sweet-shooting second quarter.

The clash with the Tams is the third game for the Falcons this week.

"This was a special request from my son," Ahanminsi added candidly shared. "It's his birthday today."

The win gives Adamson the solo third spot in the standings with a 5-2 card. FEU, on the other hand, falls behind at fourth (4-3).

The scores:

ADAMSON 95 – Ahanmisi 17, Espeleta 17, Sarr 14, Manalang 11, Pingoy 10, Bernardo 8, Manganti 7, Hill 6, Ochea 3, Lojera 2, Mustre 0, Camacho 0, Chua 0

FEU 79 – Parker 12, Dennison 11, Cani 8, Ramirez 8, Escoto 8, Tolentino 7, Tuffin 7, Orizu 5, Comboy 5, Ebona 4, Inigo 2, Stockton 2, Trinidad 0

QUARTER SCORES: 29-19, 61-40, 79-61, 95-79.