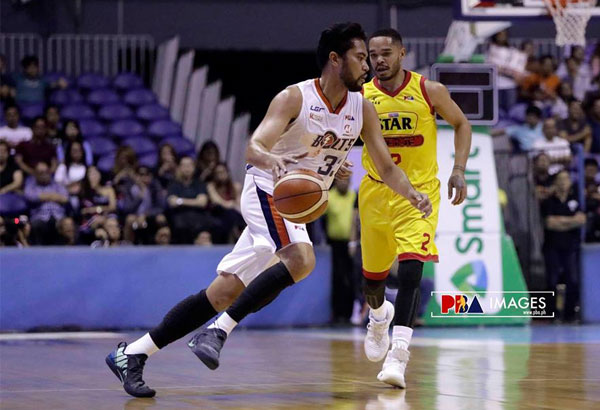 Meralco's Ranidel De Ocampo drives past Justin Melton of Star during their PBA Governors' Cup semis game Wednesday. | PBA Images
Ranidel De Ocampo big key in Meralco's finals return
MANILA, Philippines – Meralco is back in the PBA Governors Cup Finals, and a large chunk of the credit is attributed on its key trade deal bringing Ranidel de Ocampo over to the Bolts' camp toward the end of the elimination play.
De Ocampo, a six-time champ with TNT KaTropa, played stellar roles in Meralco's conquest of Blackwater in their do-or-die setto in the quarterfinals and in their three-game sweep of Star in the semifinal round.
Meralco coach Norman Black said De Ocampo's arrival was definitely a tremendous boost to their team.
"Getting a player of his caliber that late in the conference when you're winning games and playing well was a big lift for us down the stretch. Obviously, it's not over yet, but he's a big lift for us," said Black.
The Star Hotshots pointed to De Ocampo as the biggest factor in their semis series with the Bolts.
"Sobrang laki (So big)," said Star player Marc Pingris on what De Ocampo brought over to Meralco on his transfer from TNT KaTropa.
"Because he's a good shooter, he opened up the space for Allen Durham. He's the reason why we stuck to playing man-to-man. We couldn't afford to play zone with him there," said Pingris.
For Star coach Chito Victolero, the De Ocampo trade turned to be a winning gambit for both Meralco and TNT.
"De Ocampo boosted the strength and weaponry of Meralco. And his departure from TNT allowed Troy Rosario to bloom. Rosario is now playing longer minutes and he's been playing well," said Victolero.
De Ocampo scored 14 points and shackled Henry Walker on defense in the crunch as the Bolts topped the Elite, 104-96, in the quarters.
In the semis, De Ocampo put in solid stats line of 12.6 points, 6.3 rebounds and 1.6 assists a game.
In the clincher Thursday, the longtime Gilas mainstay came up with 13 points, including a clutch basket in overtime.
"He's a clutch player and he's a big addition to Meralco," said Victolero.