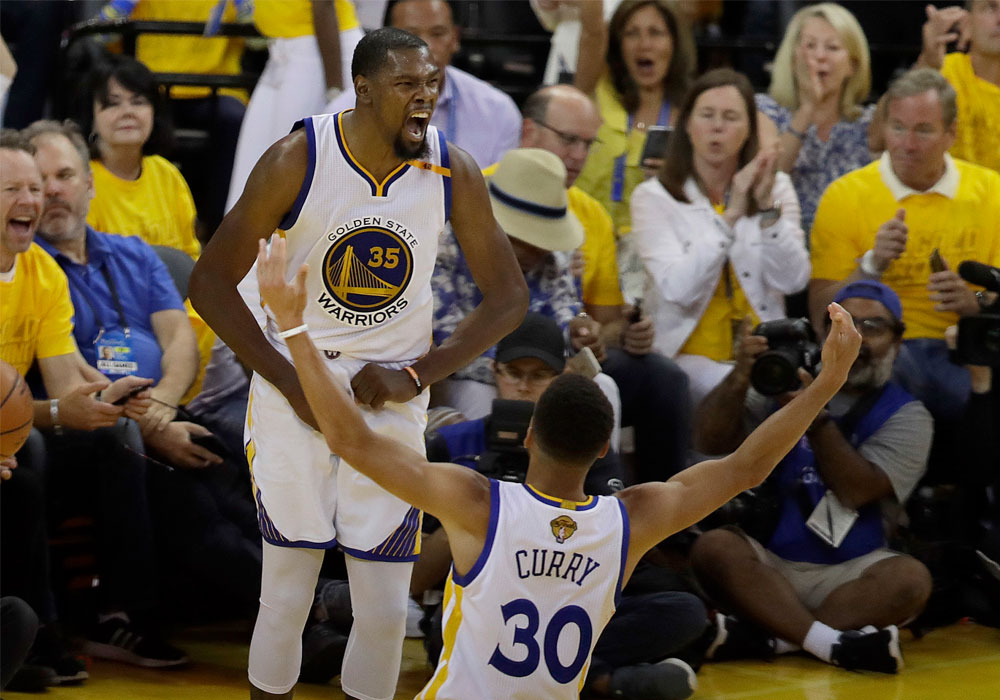 Golden State Warriors forward Kevin Durant (35) celebrates with guard Stephen Curry (30) during the second half of Game 2 of basketball's NBA Finals against the Cleveland Cavaliers in Oakland, Calif., Sunday, June 4, 2017. | AP Photo/Marcio Jose Sanchez
NBA GMs pick Warriors to repeat; LeBron seen to win MVP plum
(philstar.com) - October 5, 2017 - 6:56am
MANILA, Philippines — The Golden State Warriors are tipped to win a second straight crown, according to the annual general managers' survey.
Ninety-three percent of respondents said the Dubs will win another title while the remaining seven picked their rival, the Cleveland Cavaliers.
Cleveland's King Lebron James is a favorite to win the league's MVP award after the season, garnering 50 percent of votes.
Other MVP contenders are GSW's Kevin Durant (29 percent,) San Antonio Spurs' Kawhi Leonard (11 percent,) Houston Rocket's James Harden (7 percent) and GSW's Steph Curry. (4 percent)
Reigning MVP Russell Westbrook of the Oklahoma City Thunder was not among the top picks.
Respondents also chose Los Angeles' Lonzo Ball as the top rookie and predicted that Leonard will earn his third Defensive Player of the Year award.
A Cavs-Boston Celtics showdown is projected in the Eastern Conference finals while the Houston Rockets, Spurs and Thunder will figure in a tight contest to face the Warriors in the West.
The 2017 NBA Season will begin on September 21.