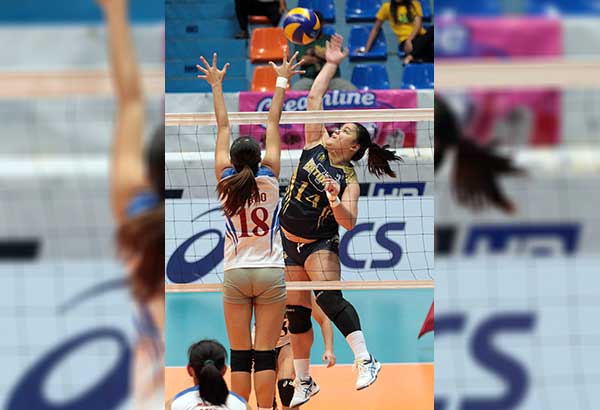 Jorelle Singh of NU unleashes a hard kill against Necole Ebuen of Arellano. JUN MENDOZA

Jaja dominates as NU belles near PVL final .
MANILA, Philippines — Jaja Santiago unleashed a 24-hit game as National University pummeled Arellano University, 25-17, 25-16, 25-23, to move a win from nailing the first finals berth in the Premier Volleyball League Collegiate Conference at the Filoil Flying V Center in San Juan yesterday.
Santiago took charge in the third set, sparking their fightback halfway through before hammering in two hits down the stretch, including the match-clinching kill, to beat the Lady Chiefs in the opener of their best-of-three semifinal series.
Santiago, who had 18 attacks, three blocks and three aces with seven digs to boot, helped the Lady Bulldogs stay ahead in the first set before sizzling with 12 points in their dominant second set romp.
"We know for a fact that Jaja (Santiago) is one of the brightest players today. I told her that since you are in that position, why don't you be more active? If you'll notice, she has a lot of roles now. This conference, hindi namin siya pinapalitan ng libero. She stays inside. That in itself is a very big thing for her. And I'm very happy with the way she takes the responsibility and with how she tries to lead," said NU coach Babes Castillo.
Risa Sato backed Santiago with 11 markers while Aiko Urdas and Jorelle Singh combined for 15 markers, for the Lady Bulldogs, who thus sustained their charge coming off a five-game sweep of Group A in the two-division single round elims of the season-ending conference of the league organized by Sports Vision.
Regine Arocha chalked up eight points while Necole Ebuen and Andrea Marzan punched in six apiece for the Lady Chiefs who kept their errors to 14, 10 less than the Lady Bulldogs. But they only answered with 26 hits to NU's 45, while also falling short in blocks, 2-8, and service aces, 4-8.
Later in the night, Adamson fought back from 1-2 set down with a sweep of the last two frames, hacking out a 21-25, 25-22, 20-25, 25-14, 15-8 decision to likewise zero in on the other finals berth.
The Lady Falcons rode on their big fourth set charge to dominate the fifth with Bernadette Flora, Christine Soyud, Joy Dacoron and Chiara Permentilla anchoring the Lady Falcons' big finish aided by the Lady Tams' miscue and mishit.
The win also stretched Adamson's win run to six after a sweep of its elims group and the Lady Falcons did it despite the absence of injured top hitter Jema Galanza.