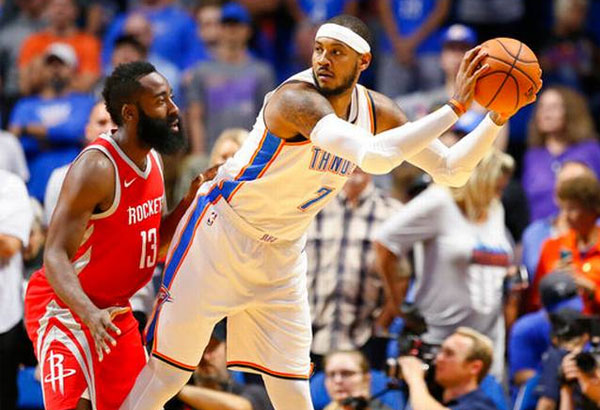 Oklahoma City Thunder forward Carmelo Anthony (7) is guarded by Houston Rockets guard James Harden (13) during the first quarter of an NBA preseason basketball game in Tulsa, Okla., Tuesday, Oct. 3, 2017. | AP Photo/Sue Ogrocki
Anthony sharp in OKC debut; Rockets look fine without him
Carmelo Anthony was sharp in his first game with the Thunder, though Chris Paul and the Rockets look like they will be just fine without him.
Houston overcame Anthony's 19 points in just 20 minutes and Paul George's 15, spoiling their Oklahoma City debuts with a 104-97 victory on Tuesday night in Tulsa, Oklahoma (Wednesday Manila time).
Paul had 11 points and seven assists in his Houston debut. The Rockets tried to acquire Anthony after getting Paul, but couldn't work out a deal during their summer-long discussions with the New York Knicks, who instead dealt their leading scorer to Oklahoma City on the eve of training camp.
But the Rockets, who had one of the NBA's most potent offenses last season, might not need the extra scoring. James Harden had 16 points and 10 assists, Sixth Man of the Year Eric Gordon scored 21 points, and the Rockets made 24 3-pointers . Gordon had six and Trevor Ariza hit five on his way to 18 points.
MVP Russell Westbrook didn't play for Oklahoma City.
The Knicks played their first game without Anthony, losing to the Brooklyn Nets in one of the four games on the NBA's preseason schedule.