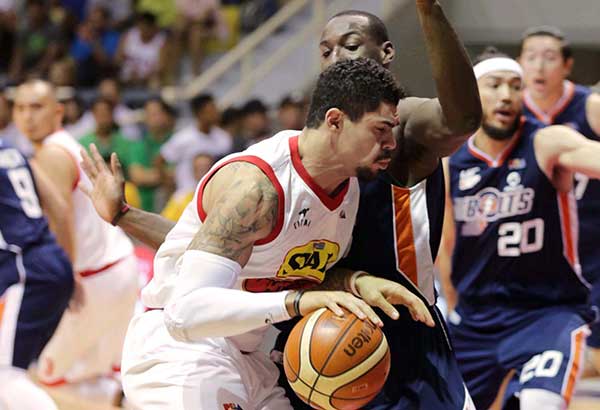 Star import Christopher Acox tries to force his way against Meralco counterpart Allen Durham during Game Two of their PBA Governors Cup semis duel in Sta. Rosa, Laguna. ERNIE PEÑAREDONDO
Bolts race to 2-0, clobber Hotshots
Game today (Batangas City Coliseum)
7 p.m. – Ginebra vs TNT KaTropa
MANILA, Philippines — The Meralco Bolts stoked the fire of their blazing finish the last time and torched the Star Hotshots, 98-74, to seize a commanding two-games-to-nil lead in their PBA Governors Cup best-of-five semifinal face-off before a big crowd at the Sta. Rosa Multi-Purpose Complex in Sta. Rosa, Laguna last night.
Relying largely on defense in their come-from-behind 72-66 win Sunday, the fired-up Bolts stepped up even more and overwhelmed the Hotshots with a superb game on both ends on the way to their third win over Star in the tourney.
The Bolts also made sure not to start the same way they did in Game One where they allowed the Hotshots to surge to an early huge lead at 20-3.
Allen Durham and his teammates picked up from where they left off Sunday night and methodically outclassed the Hotshots to move in the doorstep of a second straight Governors Cup Finals stint.
They take their first of three cracks at the best-of-seven finals in Game Three tomorrow back at the Smart Araneta Coliseum.
Meanwhile, Barangay Ginebra and TNT KaTropa bring their PBA Governors Cup semifinal showdown down to Batangas City tonight, each side bracing for a battle after splitting their first two games in the tourney.
Ginebra pummeled a lethargic TNT side and pulled off a dominant 121-94 win Monday – a complete turnaround from their elims setto where the Texters bludgeoned the Kings, 121-92.
In Sta. Rosa, the Hotshots were determined to avenge their loss Sunday but suffered a big blow early in the contest with Paul Lee out due to an old knee injury.
Lee was helpless on the bench as the Bolts quickly pulled away, storming to a 30-11 in the opening quarter and staying in full control all throughout the contest.
Rotating the ball well and taking high-percentage shots, the Bolts took the half at 53-32 on a 21-of-34 shooting as against the Hotshots' measly 13-of-43 clip.
And it became a full-blown rout as Jared Dillinger rifled in a trey then Durham scored on a thunderous slam to start the second half.
It was a numbing loss for the Hotshots who had never been beaten by more than six in the season-ending tourney. It's their worst loss since an 86-112 rout by TNT in Game Three of the 2014 Governors Cup semis.
"Coach Norman didn't want a repeat of our Game One start. Our first group played good defense and they set the tone of the match early," said Ranidel de Ocampo, who sizzled with 3-of-5 three-pointers and shared scoring honors with Durham and Dillinger with 18 points each.
NOTES: Meralco suspended reserve center Kelly Nabong in the aftermath of his verbal altercation with assistant coach Jimmy Alapag at the height of their rally in Game One. "Kelly Nabong is suspended indefinitely for conduct unbecoming of a PBA player and for conduct detrimental to the team," said Meralco in a statement.
The scores:
Meralco 98 – Dillinger 18, De Ocampo 18, Durham 18, Amer 16, Newsome 10, Hodge 9, Tolomia 7, Faundo 2, Yeo 0, Lanete 0, Sedurifa 0, Caram 0, Hugnatan 0.
Star 74 – Barroca 16, Abundo 14, Acox 9, Ramos 8, Sangalang 6, Melton 5, Pingris 5, Reavis 4, Dela Rosa 4, Brondial 3, Lee 0, Jalalon 0, Simon 0, Gamalinda 0.
Quarterscores: 30-11, 53-32, 78-48, 98-74