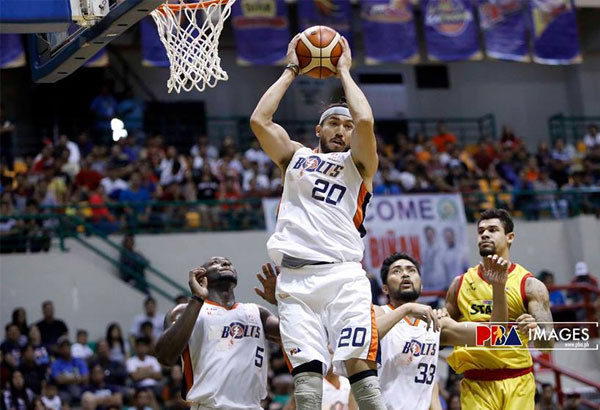 Jared Dillinger of the Meralco collars the rebound during their game against Star on Sunday. | PBA Images
Meralco's Dillinger earns PBA Player of the Week honors
(philstar.com) - October 3, 2017 - 7:01am
MANILA, Philippines – Jared Dillinger supplied the steady offense and leadership that enabled Meralco to thrive in the 2017 PBA Governors' Cup playoffs.
Nicknamed the "Daredevil", the 6-4 Dillinger banged in 15 points — including five triples — along with five assists, three rebounds and a steal to help Meralco recover from a 12-point hole en route to a 104-96 win against Blackwater in their do-or-die quarterfinal match last week.
The 33-year-old Dillinger sustained his brilliant effort by producing the same output of 15 points, none bigger than his two 3-pointers in the last quarter, along with the go-ahead layup with 63 seconds left to help the Bolts complete their come-from-behind win over the Star Hotshots via a 72-66 decision last Sunday in Binan, Laguna.
The exploits of Dillinger, the second overall pick in the 2008 PBA Rookie Draft, gave the Bolts a 1-0 lead in their best-of-five semifinal series against the Hotshots.
His efforts also earned him the PBA Press Corps Player of the Week for the period of September 25-October 1 as he beat the likes of Meralco teammates Baser Amer and Chris Newsome, TNT combo guard Jayson Castro and Ginebra forward Joe Devance.
Dillinger and the Bolts try to sustain their current playoff run when they face off once more with the Hotshots on Tuesday as they gun for a commanding 2-0 series lead when action swings to Sta. Rosa, Laguna.