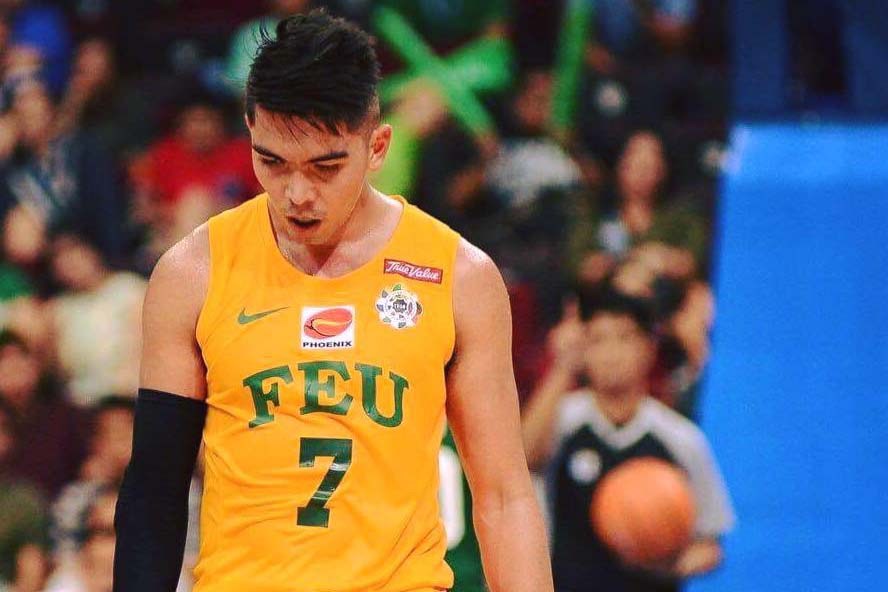 Photo from Ron Dennison's Facebook account
5 points from the weekend's UAAP games
(philstar.com) - October 2, 2017 - 7:31am
MANILA, Philippines — Here are five key takeaways from the weekend's cage games:
After a spectacular win comes a spectacular fall by UP
While the Far Eastern University Tamaraws are no slouches themselves and they played very good defense on the Fighting Maroons, you can say that UP was bad too.
With Tamaraws' captain Ron Dennison once more putting the camps on Paul Desiderio who was held to 9 points on 4-12 shooting, UP needed scoring sock. Ibrahim Quattara and Juan Gomez De Liaño scored 17 and 16, respectively. However, players who stepped up against La Salle were as quiet as a mouse. Jun Manzo and Javi Gomez de Liaño, who netted 17 and 10 points, respectively, against the Green Archers, combined for four points against FEU.
It's something that these Fighting Maroons will have to learn – to win big games and follow up with even bigger wins so they won't be tagged as "tsamba". While no doubt, this team is very good and will battle for a Final Four slot, this result is something they will have stew about for a bit in terms of attitude and desire then move on to the next.
Not so fast, Arvin Tolentino, Ron Dennison is still FEU's man
Perhaps we anointed Arvin Tolentino as FEU's Main Man a bit too early (although we paid proper props to Dennison in the same breath). Dennison has since the preseason showed not only leadership but also a go-to player mentality when the chips are down. He is scoring much better and plays lockdown defense too just like Roger Pogoy did in his final season.
That was a great job he did on Desiderio, who himself paid tribute to the Tamaraw guard.
The NU Bulldogs showed flashes of its future versus Ateneo
During the summer, it was rookie Enzo Joson who played well for the Bulldogs. It took him a few games into his maiden UAAP Seniors season to show why head coach Jamike Jarin was high on this former Blue Eaglet, but Joson responded. Maybe it was he was playing against many of his former teammates in high school but if he plays that way – hitting big shots and running the offense with aplomb, he'll be all right.
It is the same with Chino Mosqueda who in my opinion, can be deployed as NU's version of Mike Nieto – a do-it-all-multi-position player. All these minutes he is getting now – watch out next year as he grows older and wiser.
And if their frontline of Issa Gaye, Tzaddy Range and Matthew Aquino can click all at one time – watch out. They could have a core of top bigs.
I maintain that this is a young team and will get even younger when they lose their graduating vets (JJ Alejandro, Matt Salem, and Dave Yu). But it is important that this team understands that they are also playing for the long term.
It has been fun to see Chibueze Ikeh's development.
What a turnaround from last season where most couldn't wait to see him get subbed out to now waiting for him to get back on the floor.
Here's a stumper…. The Big Fella was hitting 63 percent of his field goal attempts last season, while this year he is at 61 percent!
What has changed? Let's look at the numbers first.
8 starts in 17 games last season and zero attempts from 3-point country.
6 starts in 5 games and 2/4 from three-point range.
Minutes
Season 79 - 16.5/game
Season 80 - 21/game
Scoring
Season 79 - 5.2/game
Season 80 - 10.0/game
Free throws
Season 79 - 16-40 40%
Season 80 - 12-19 63%
Rebounding
Season 79 - 5.2/game
Season 80 - 10.2/game
Assists
Season 79 - 0.6/game
Season 80 - 1.2/game
Steals
Season 79 - 0.3/game
Season 80 - 0.7/game
Blocks
Season 79 - 0.7/game
Season 80 - 1.0/game
Turnovers
Season 79 - 1.9/game
Season 80 - 2.7/game
About a month or so before the start of this UAAP season, he was playing so much better in all their tune up matches. Simply put, he's playing with so much more confidence and has put in more work and is more focused.
DLSU's Leonard Santillan has quietly become a top player
In his first year in the UAAP after transferring from Cebu, Santillan is playing like a heady vet (well, he is technically) averaging 10.0 points, 8.0 points, and 2.0 assists. He isn't spectacular but he gets the job done. Furthermore, he doesn't foul much (2.3 a game) and handles the ball well (1.2 turnovers a game). He's done far better than Justine Baltazar or even Abu Tratter considering its his first year on the team. I'd like to think this kid should be considered for the Gilas Cadets program.