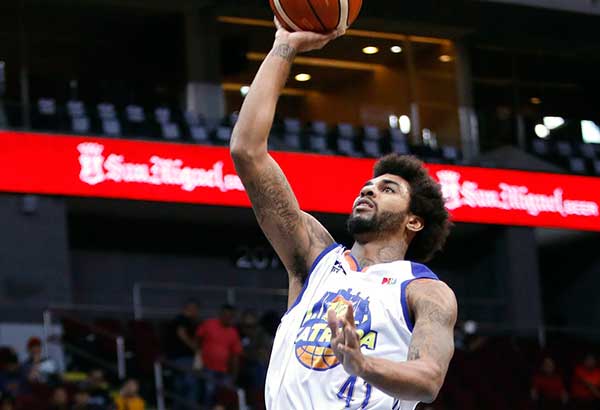 Will TNT 'Rice' to the occasion?
MANILA, Philippines — It's win or go home for TNT KaTropa import Glen Rice Jr. against Rain Or Shine in the PBA Governors Cup quarterfinals at the Smart Araneta Coliseum tonight and the former Washington Wizards guard with the NBA pedigree isn't ready to pack his bags.
Rice, 26, came in as a replacement for Michael Craig three games into the conference and averaged 32.9 points to lead TNT to second place in the eliminations with a twice-to-beat advantage over No. 7 Rain Or Shine in the quarterfinals. Last Wednesday, Rice was held to 19 points on 8-of-28 field goals as the Elasto Painters beat TNT, 106-102, to withstand the KaTropa's 20-4 closing surge. Tonight, it's do-or-die for both TNT and Rain Or Shine with the winner advancing to face Barangay Ginebra in the best-of-five semifinals.
For Rice, pressure isn't something that worries him. "It's just basketball," he said. "I know what I'm supposed to do so I just prepare myself. When I came out to the Philippines, I had no anxieties, I wasn't nervous. It's my first time in Asia. My father (NBA legend Glen, Sr.) has visited the Philippines twice and he told me about how Filipinos love the game, how friendly they are and how I'd love it over here. I think it's a blessing that I get this opportunity to play in the PBA which could be a stepping stone in my career. In the PBA, my job is to play my best and lead my team to the championship. That's what I'm expected to do and that's what I'm here to do."
Rice, who played 16 games for the Wizards in the 2013-14 and 2014-15 NBA seasons under coach Randy Wittman, said playing in the PBA is a unique experience. "Every league is different but in the end, it's the same game," he said. "In the PBA, it's a little bit more physical because they allow you to do things they wouldn't allow in the NBA. It's my responsibility to adjust to the style of play. It's like the foreigners who play in the NBA. When I played with the Wizards, my foreign teammates were (Marcin) Gortat (Poland), Nene (Brazil) and (Kevin) Seraphin (France). They adjusted to the NBA style and played like Americans so I didn't really learn anything from them in terms of how basketball is played in their country. It's the same in the PBA where I'm adjusting to my new role."
Rice said PBA fans are more involved with the game than fans in other countries. "PBA fans are incredible, I love them," he said. "My dad told me about how wonderful they are. My bosses at TNT are really hands-on and extremely supportive. My problem is getting to know them by their initials like MVP (Manny V. Pangilinan), VPV (Victorico P. Vargas) and PCG (Patrick C. Gregorio)."
Rice said if TNT makes it all the way to the finals, there's a chance his father will fly over. Even his agent Scott Chinarian of California is planning a visit. "I'm ready to come to watch the finals," said Chinarian. "Thank you, TNT coaches, you got Glen playing his best."
A shakeup in the TNT roster by coach Nash Racela has brought new life to the KaTropa's bid for another title. Veterans Ranidel de Ocampo and Larry Fonacier were traded. For a while, there was speculation that TNT would sputter without the long-time TNT fixtures. But with Racela at the helm, TNT has remained a solid contender. Rice's arrival was the icing on the cake.
"We lost a good guy in Del but we've moved on," he said. "Defensively, we've become more scrappy. We're faster. On offense, Del used to keep us composed, now it's Jayson (Castro) who keeps us calm. Troy (Rosario) has taken on a bigger role and Kelly (Williams), who looks like a fitness instructor, is playing really well. There's a lot of good players in the PBA, guys who could make it in the NBA G-League and maybe even get a shot at the NBA, if not for the height factor."
Rice, one of seven children, said he doesn't watch basketball on TV and can't recall even watching Michael Jordan in a full game, live or on the screen. "My mom (Tracy Starwood) and dad divorced when I was five or six and I ended up living with my mom in Atlanta while my dad moved from place to place, wherever the NBA took him," he said. "As a kid, I'd go watch my dad play so it was more like me going to him than him coming to me. Growing up, the biggest influence in my basketball life was my high school coach Joe Goydish who used to pick me up from home and take me to the gym very early in the morning to practice for at least an hour before classes started. To this day, I still stay in touch with Coach Joe." While he's not a basketball TV addict, Rice said he's watched enough to idolize Tracy McGrady as his all-time favorite. His favorite team is the Miami Heat.
Rice said he never looks beyond the next game. "Every game is the same, whether it's a playoff game or not," he said. "We beat Ginebra by 29 points but that's just one game. I prepare myself for what's next, what's in the now. That's my focus." For Rice, the only thing on his mind is leading TNT to a win over Rain Or Shine tonight. What happens after is something to think about for another day.