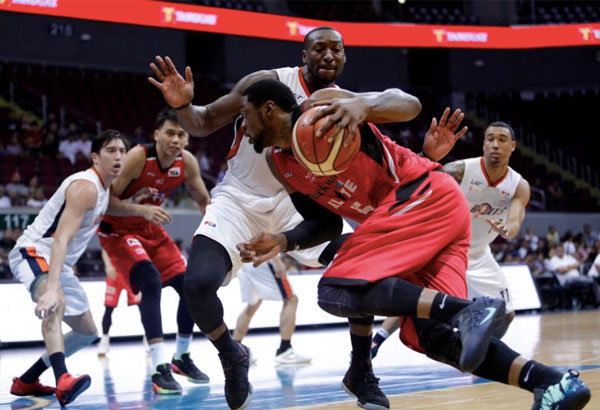 Blackwater import Henry Walker drives against his Meralco counterpart Henry Walker. | PBA Images
Elite live for another day, shock Bolts
Games Wednesday (Mall of Asia Arena)
4:15 p.m. – TNT KaTropa vs Rain or Shine
7 p.m. – Ginebra vs San Miguel
MANILA, Philippines – Henry Walker fired 18 of his 30 points in the fourth quarter while Roi Sumang and Allein Maliksi came through with huge plays at the finish as Blackwater stunned top seed Meralco, 92-91, to force a do-or-die showdown in their PBA Governors Cup quarterfinals matchup at the MOA Arena Tuesday night.
Playing only his third game with the Ever Bilena franchise, Maliksi delivered the winning basket as the Elite scored a first post-elims victory since joining the local pro league in 2014.
The Bolts, the elims top-notchers with a 9-2 win-loss slate, came out sluggishly in their second game in 48 hours and subsequently dropped their first crack at the best-of-five semifinals.
The two teams figure in a knockout battle Wednesday.
"The bottom line was that we challenged our players to face the situation we're in and be good players in this kind of situation. And I would like to commend my players for fighting the good Meralco team toe-to-toe," said Blackwater coach Leo Isaac.
"Maliksi is indeed a big help for us especially on the offensive end. Only in his third game with us, he's still confused on our set plays, but he's a fast-learner," said Isaac of Maliksi whom he trusted with their make-or-break play in the closing seconds.
Coming off a pick by KG Canaleta, Maliksi drained an eight-footer on an assist by Walker as Blackwater became the ninth team in PBA playoffs to force a sudden death versus the top seed. For the record, only three teams were able to win the next game and advance to the next round.
The Bolts could have salvaged the game, but Chris Tolomia missed a top-of-the-key shot as time expired.
Sumang came through with his big play earlier as he stole off Allen Durham and set up Maliksi for a basket that made it 90-89 with 33.6 seconds to go.
"Maliksi is a huge addition to us. Mike Digregorio also played big and Roi stepped into his own man, making a big steal in the end. Kudos to my teammates," said Walker, deflecting the credit to his teammates.
But after the Elite squandered an early 10-point spread, Walker kept the team intact with his 18-point explosion in the fourth.
An elite import with stints with the Celtics, the Knicks and the Heat in the NBA, Walker also came up with 18 rebounds, six assists, one steal and one block on top his 30 points on 12-of-25 field goals and 2-of-3 free throws.
Digregorio paced the team in the first three quarters and finished with 20 points while Maliksi contributed a total of 15 markers.
Durham had his usual solid all-around numbers but he's limited to 18 points – almost 10 below his average.
The Bolts also suffered on crucial infractions committed by Jared Dillinger at the finish.
Meralco was protecting a three-point lead at 89-86 when Dillinger committed a flagrant foul on Sumang with 1:06 to go.
Sumang canned in his two gift shots before making the steal that paved the way for an attack pushing Blackwater ahead at 90-89.