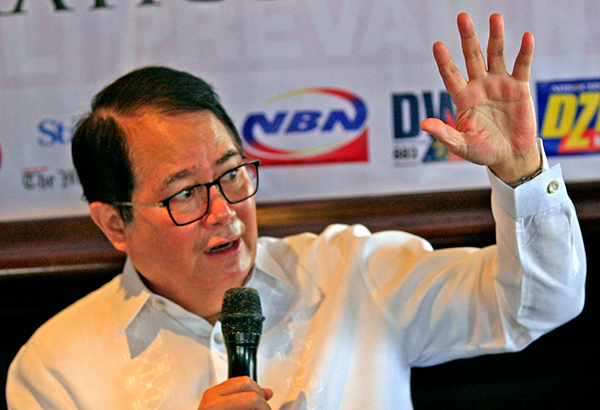 Ricky Vargas, president of the Association of Boxing Alliances of the Philippines, has urged those seeking "change" in Philippine sports must do it the right way. File
Vargas: Change must be genuine
Abac Cordero
(The Philippine Star) - September 25, 2017 - 4:00pm
MANILA, Philippines — Effecting a change in leadership in the Philippine Olympic Committee (POC) in an "orderly, legal and unified manner" is not an easy task.
Ricky Vargas, president of the Association of Boxing Alliances of the Philippines (ABAP), has urged those seeking "change" in Philippine sports must do it the right way.
Some NSAs (national sports associations) along with other sectors have called for the resignation of longtime POC president Jose Cojuangco Jr.
Last Thursday, they staged simultaneous rallies at the Rizal Memorial Sports Complex and Cebu City with a former chairman of the Philippine Sports Commission chairman and an incumbent commissioner among those at the helm.
Vargas tried to effect changes in the POC leadership in a legal manner last year when he sought to challenge Cojuangco in the POC elections. But he was disqualified due to his alleged failure to meet some electoral requirements.
The soft-spoken sportsman who is a key member of the MVP Group thinks that putting up banners, chanting slogans and taking to the streets may not be the answer.
"I have not changed my original stand on the need for leadership change (in the POC). That said, we must effect change in an orderly, legal and unified manner. There are options provided for this in the POC by-laws," he said.
But again, it's easier said than done.
Under the POC by-laws, an elected official may be removed from position "for cause, by three-fourths vote of the entire voting membership of the POC (general assembly)."
In the last POC elections last November, there were 41 registered voters, and based on these numbers, it would take at least 31 votes to unseat Cojuangco.
Of the 41 NSAs on the list, only 37 of them showed up for the elections, with 26 of them voting for Cojuangco, giving the 83-year-old his fourth four-year term as POC head since 2004.
Section 14 of Article 7 of the POC by-laws also clearly states that removal or impeachment of an elected POC official may only be initiated by a "verified position of at least two-thirds" of the voting members. Once the position is achieved, only then will a vote of confidence take place, needing a bigger number of votes at three-fourths.
It is also in the POC by-laws that "no removal shall take place within one year from the date of the officer's assumption to office or one year immediately preceding the regular election."
This means that any legal effort to remove Cojuangco, whom critics have blamed for the sorry state of Philippine sports, may not take place until late November this year.
"Change must be genuine. No cosmetics, no theatrics, no ifs and buts," Vargas stressed.
There have been several calls for Cojuangco's resignation. But the seasoned politician has masterfully ignored each call.