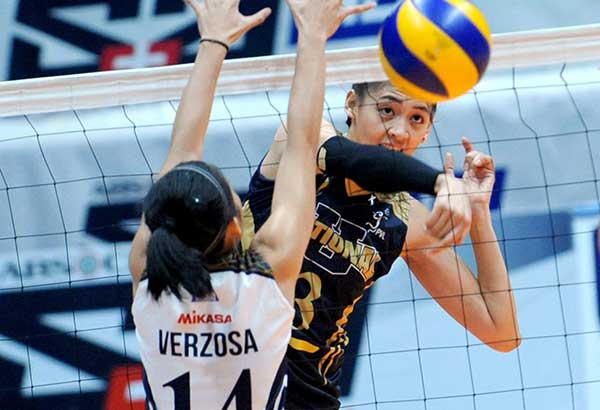 Tall Jaja Santiago of NU gets a clear shot for a kill against Grace Verzosa of JRU. JUN MENDOZA
Lady Falcons rap Blazers, clinch PVL semis slot
MANILA, Philippines — Streaking Adamson bucked the exit of ace hitter Jema Galanza early in the third set as it demolished also-ran College of St. Benilde, 25-19, 25-20, 25-17, last night to clinch the first semifinal berth in Group B of the Premier Volleyball League Collegiate Conference at the Filoil Flying V Center in San Juan.
Christine Soyud and Chiara Permentilla stepped up to cap the Lady Falcons' dominant third set finish after skipper Galanza twisted her right foot after an awkward landing early in the frame. She had nine points, eight digs and six excellent receptions before being stretchered out of the court and rushed to the hospital.
Soyud collected 18 points and Permentilla came through with 10 markers.
The San Marcelino-based squad thus stretched its impressive run to four and took the first Final Four seat in their side of the two-division tournament organized by Sports Vision.
UP and Arellano, tied at second with 3-1 marks, dispute the other slot on Saturday.
Ranya Musa had 14 markers while Rachel Austero tallied 13 hits for CSB which joined Technological Institute of the Philippines in the cellar with 0-4 slates.
Earlier, National University overwhelmed Jose Rizal U, 25-11, 25-15, 25-13, to secure at least a playoff for a semis seat in Group A.
The Lady Bulldogs went on cruise control in each frame, racing to leads of as many as 14 points in the first two sets and 13 in the third as they came out firing from the attack line, 40 to 14.
The Lady Bombers also had no answer to NU's net defense, 0-5, and were badly beaten from the service box, 9-3.
"I'm close to getting satisfied (with the way they are playing.) They now understand the system – in attacks and defense. Though our biggest challenge is our small roster, we need to manage the time so the players won't get exhausted," said National U coach Babes Castillo.
Jorelle Singh piled up 13 points, skipper Jaja Santiago came away with 12 hits while Risa Sato added 11 markers for NU, which stayed ahead of the Group A pack with a 4-0 card.
The victory likewise primed up the Lady Bulldogs against the Ateneo Lady Eagles in a duel for the first semis berth in their side of the tournament backed by Mikasa and Asics.
Shola Alvarez scored five points while Karen Montojo, Dolly Versoza and Christine Ebuenga combined for only 10 hits for the Lady Bombers, who fell to 0-4.