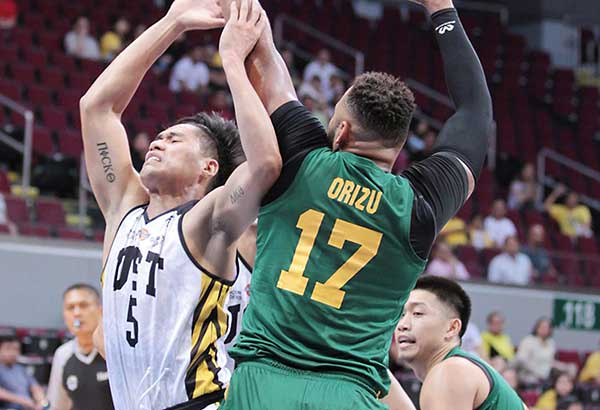 Prince Orizu of FEU foils a shot by Regie Basibas of UST in their UAAP game yesterday at the Mall of Asia Arena. JOEY MENDOZA
Maroons topple fancied Archers in UAAP shocker
Olmin Leyba
(The Philippine Star) - September 23, 2017 - 4:00pm
Games today (MOA Arena)
2 p.m. – UE vs AdMU
4 p. m. – NU vs AdU
MANILA, Philippines — On the eve of University of the Philippines' game against powerhouse La Salle, Maroon guard Jun Manzo posted on his Twitter account: "Walang imposible sa taong naniwala."
The Cebuano's sincere belief in achieving the seemingly impossible task rubbed off on his teammates and nine hours later, the Fighting Maroons reaped the rewards via a 98-87 shocker over the defending titlists last night in the UAAP men's basketball tourney at the MOA Arena.
The upset – UP's first over the Taft-based squad since a 71-66 reversal in Season 78 – put the Maroons on level with the Archers for second spot at 3-1.
"Nag-post ako sa Twitter para malaman ng UP community na naniwala kami na mananalo kami sa La Salle (I posted that tweet to let the UP community know we truly believe we can beat La Salle)," said Manzo, who teamed up with fellow Cebuanos Paul Desiderio and Jan-jan Jaboneta in the Maroons' searing fourth-quarter assault that fueled their pullaway.
The trio combined for 21 in the payoff period, where the Maroons outgunned the Archers, 32-22, and set the stage for the tourney's biggest upset.
Desidero rifled in a career-best 30 spiked by six triples with Manzo adding 17 (including nine in the fourth) and Jaboneta making all his six in the fourth.
"My players believed they can win because they know they can compete against powerhouse La Salle team," said UP coach Bo Perasol, whose wards rifled in 16 triples to boost their cause.
The Maroons fought back from a 14-point deficit early on and spoiled the 34-point, 12-rebound explosion of Ben Mbala.
It was an emotional moment for UP, especially Rob Ricafort who got to see action after securing a 20-day temporary restraining order against the UAAP's ruling declaring him ineligible. The league allowed him to play but warned UP of the risk of possible forfeiture "if the court eventually decides against Ricafort's petition with finality"
Slow-starting Far Eastern cranked it up in the second half to turn back Santo Tomas, 78-65, and improve to an even 2-2. The Tigers reeled to their fourth straight loss.
Notes: Following the issuance of a 20-day temporary restraining order against their age eligibility requirement, the UAAP said it was allowing Rob Ricafort to suit up for UP but at the risk of "whatever the court will eventually rule." "The UAAP does not intend to defy the court or any of its processes. But this is without prejudice to pursuing our remedies available under the law," said UAAP executive director and basketball commissioner Rebo Saguisag. He said the Maroons have been made aware of possible repercussions, including forfeiture. "We're consulting our lawyers. Should, I'm not saying it will be the case, but should the TRO be found null and void, then we have to retro-act including this afternoon's game (against La Salle). It (forfeiture) is a possible repercussion and weve already informed UP; they're free to do what they want but they should assume the risk of whatever the court will eventually decide."
The scores:
First Game
FEU 78 – Dennison 15, Tolentino 15, Parker 8, Tuffin 8, Ebona 6, Inigo 6, Comboy 5, Orizu 5, Ramirez 5, Escoto 3, Stockton 2, Bayquin 0, Cani 0, Nunag 0, Trinidad 0.
UST 65 – Faundo 16, Sta. Ana 11, Basibas 8, Escalambre 8, Akomo 6, Huang 4, de Guzman 3, Lee 3, Kwawukumey 2, Arana 2, Macasaet 2, Caunan 0, Garcia 0, Soriano 0.
Quarterscores: 11-16, 31-36, 49-48, 78-65
Second Game
UP 98 – Desiderio 30, Manzo 17, Ju. Gomez de Liano 10, Ja. Gomez de Liano 10, Lim 6, Ouattara 6, Jaboneta 6, Dario 5, Romero 4, Ricafort 2, Prado 2, Harris 0, Vito 0, Lao 0.
DLSU 87 – Mbala 34, Caracut 15, R. Rivero 12, P. Rivero 9, Melecio 5, Montalbo 5, Santillan 5, Paraiso 2, Go 0, Tratter 0.
Quarterscores: 18-27, 47-43, 66-65, 98-87