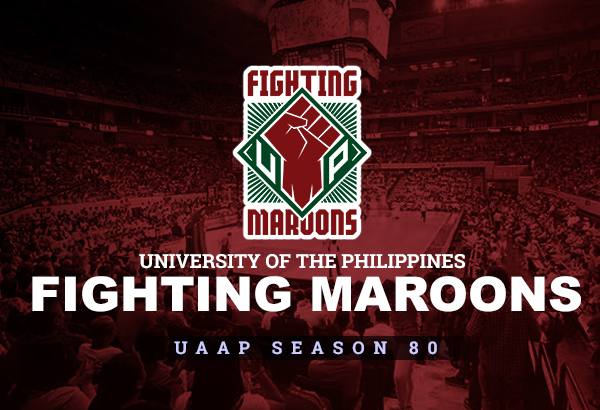 Ricafort deflects credit to UP teammates in stunning win over La Salle
MANILA, Philippines — Rob Ricafort may have been the lucky charm in University of the Philippines' upset of De La Salle University.

But he'd rather have Paul Desiderio and the team take all of the credit.

"Every time I step on the court, I really just want to bring the energy and motivate everybody especially when we're going down," the embattled rookie said. "I have to tell everybody that we still got this and we have to be composed."

"Every time I'm in there, Paul starts shooting the lights up," he added with a smile. UP shot the lights out, joining the ranks of UST, Adamson, Ateneo as the only schools to set the game-most triples in an outing.

When Ricafort first entered the game two minutes into the second period, the Fighting Maroons went on a six-zero run. By halftime, his efficiency rating was pegged at +8; by the game's end, it was +10.

But really, it was the 24-year-old cager who is lucky.

The Fighting Maroons were able to secure a temporary restraining order to counter the UAAP's eligibility rule on Ricafort a day before they took on the defending champion. He was initially ruled ineligible to compete due to the league's age rules.

"It's the coach's prerogative," UAAP commissioner Rebo Saguisag said of UP's situation prior the tussle.

"As the commissioner, I will not restrain him from playing," he added. "But they assume the risk depending on how the court will decide. After 20 days, we don't know what will happen."

The Fighting Maroons risk forfeiting every game they'll win with Ricafort playing.

"We looked into [the scenarios] and actually they said that that is impossible," he said. "I don't even have the right word to give you exactly. I was just really happy that I have the TRO for 20 days."

Pressed for comment on the possibility of a sequestration, head coach Bo Perasol said that he has left no stone unturned.

"'Yung mga bagay na 'yan sinigurado ko sa mga abugadong tiga-UP. It is ... wrong to defy a court order," he said. "'Di naman ako abugado. Kung na-forfeit, sayang. Pero I'm sure they know where they're coming from."

"I mean, I guess I feel lucky to step on the court," Ricafort, who finished with two points in in 10 minutes of action, said.

"I just want to contribute as much as I could and be better. Especially now that this is my first game. First game jitters are gone. We beat La Salle, and they are the number one team and that says a lot about our team," Ricafort added.

Asked about the coming games, the 6-foot-3 forward had a simple reply: "I'm just gonna play my heart out."