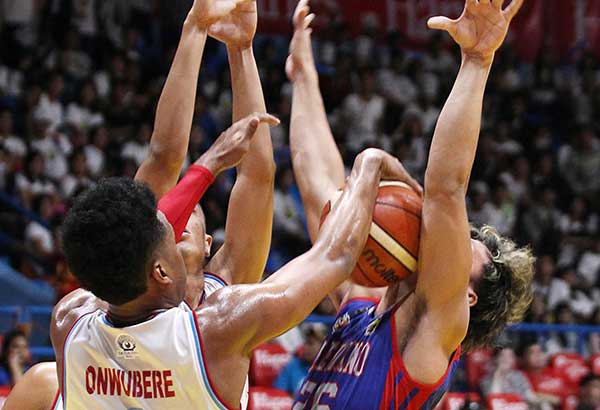 EAC's Sidney Onwubere tries to gain possession off the face of Lervin Flores of Arellano during a rebound play. JUN MENDOZA
(The Philippine Star) - September 22, 2017 - 4:00pm
MANILA, Philippines — San Beda blew a huge lead at the half but charged back down the stretch to hack out a 65-60 victory over Jose Rizal U yesterday and join unbeaten Lyceum in the Final Four of the NCAA men's basketball tournament at the Filoil Flying V Center in San Juan.
Davon Potts hit two triples in the clutch as the Red Lions regained control at 62-57 then held the Bombers to just three points in the last three minutes to nail their 11th straight victory and 12th overall in 13 games.
That sent the defending champions in the semis with Lyceum, which notched its 13th win in a row with a scrambling victory over Perpetual Help last Thursday.
It was another scary win for the Red Lions who led by as many as 18 (28-10) early in the second quarter, only to crumble in the face of the Bombers' stirring fightback behind Jed Mendoza.
Letran got back at first round tormentor Mapua and fashioned out an 88-79 victory to join JRU at third.
Arellano U, meanwhile, wore down Emilio Aguinaldo College, 84-79, to keep its slim semis chance with a 5-8 slate.
The Chiefs nearly squandered a 15-point bulge in the third and leaned on Lervin Flores in the clutch to frustrate the Generals, who dropped to 6-7.
The scores
First Game
San Beda 65 – Mocon 19, Tankoua 14, Potts 14, Abuda 4, Bolick 3, Soberano 3, Doliguez 2, Bahio 2, Cabanag 2, Oftana 2, Presbitero 0, Adamos 0, Carino 0, Tongco 0, Noah 0
JRU 60 – Mendoza 16, Abdul Razak 11, Bordon 9, David 7, Grospe 6, Teodoro 6, Poutouochi 5, Lasquety 0, Dela Virgen 0, Sawat 0
Quarterscores: 17-10, 31-19, 45-46, 65-60
Second Game
Arellano 84 – Canete 27, Salado 23, Flores 16, Dela Cruz 13, Enriquez 3, Nicholls 2, Alcoriza 0, Meca 0, Concepcion 0, Taywan 0
EAC 79 – Garcia 15, Mendoza J 13, Guzman 12, Onwubere 10, Diego 9, Tampoc 8, Munsayac 4, Pascua 4, Bugarin 4, Mendoza I 0, Neri 0, Corilla 0
Quarterscores: 24-22, 46-36, 63-52, 84-79
Third Game
Letran 88 – Nambatac 25, Quinto 22, Balanza 14, Calvo 13, Balagasay 6, Taladua 5, Mandreza 2, Vacaro 1, Gedaria 0, Bernabe 0, Pamulaklakin 0, Pascual 0
Mapua 79 – Bunag 23, Gabo 15, Nieles 9, Estrella 9, Aguirre 8, Raflores 8, Victoria 4, Pelayo 3, Orquina 0
Quarterscores: 21-18, 47-25, 66-50, 88-79