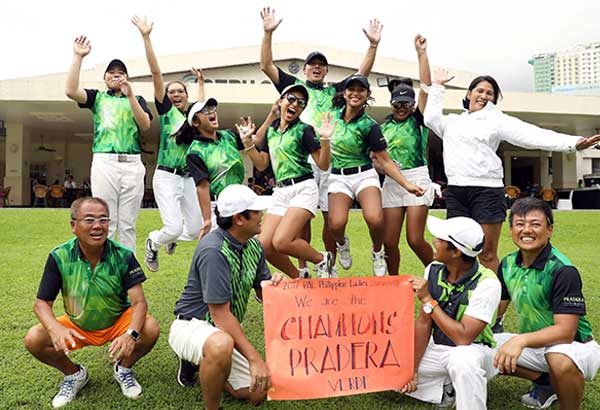 Members and officials of Team Pradera Verde celebrate their record romp in the PAL Ladies Interclub.
Pradera seals PAL Interclub romp
(The Philippine Star) - September 22, 2017 - 4:00pm
CEBU, Philippines — Pradera Verde Golf Club ended Manila Southwoods Masters' six-year reign in the Philippine Airlines Ladies Interclub, completing its wire-to-wire triumph with a 43-point romp on a closing 149 at the Cebu Country Club here yesterday.
Made up of some of the country's top junior players, Pradera settled the issue as early as Thursday when it built a 46-point lead.
The Pradera crew closed out with its lowest output of 149 points but still cruised to a 43-point triumph on a record 638 total, the biggest winning margin in the 12-year-old event.
Annyka Cayabyab, one of the youngest players in the field at 13, birdied the final hole from 25 feet to salvage 53 points for the Lubao-based squad.
Pradera, handled by coach Norman Sto. Domingo, also drew 50 points from Nicole Abelar and 46 from Tomita Arejola. Kayla Lorenz failed to count with 45.
Southwoods Masters outscored Pradera for the first time with 152 points led by Sofia Chabon's 53 points. Other scorers for the Carmona-based squad, which finished with a 595, were Mikhaela Fortuna (50) and Sunshine Baraquiel (49).
Cebu Country Club placed third with 563 points after getting 141 from Mary Kim Hong (53), Crystal Faith Neri (46) and Jeanette Chiu (42).
"I hope to still play for Pradera for two years before I turn pro," said reigning Philippine Amateur champion Yuka Saso, who also ran away with the individual title with 115 points – seven under par in stroke play.
Manila Southwoods Legends made up for its sister team's stinging setback by claiming the Founders division crown with a four-day total of 514 points.
Annika Guangko led Legends with 51 points while Marie Claire Ong added 45. The 35 of either Christine Valdehueza and Deanna Samaniego rounded out Legends' closing 131.
Ten points behind in second place at 504 was Alabang which made a 127 behind Jona Magcalayo's 47, Joan Morales's 42 and Rita Horan's 40 points.
Del Monte settled for third with 499 after drawing 136 from Martina Miñoza 51, Pamela Mariano 43 and Kiara Therese Montebon 42.
Day 4 Results: ?
CHAMPIONSHIP: Pradera Verde 638 (167-166-158-149), Manila Southwoods Masters 595 (144-153-146-152), Cebu Country Club 563 (140-133-149-141)?
FOUNDERS: Manila Southwoods Legends 514 (124-129-130-131), Alabang Golf 504 (126-129-122-129), Del Monte Golf 499 (124-112-127-136), Negros Occidental Golf 498 (117-117-135-129), Mactan Island Gold 465 (104-122-106-133), Lady Eagles Australia 459 (134-114-94-117), Valley Golf North 424 (106-110-95-113), Alta Vista Golf 406 (100-102-98-106).
SPORTSWRITERS: Eagleridge 463 (107-110-120-126), Pueblo de Oro 448 (114-105-113-116), Sta Elena 442 (103-117-115-109), Camp Aguinaldo Team A 440 (111-115-108-106), Tagaytay Highlands 423 (105-105-104-109), Rancho Palos Verdes 422 (97-111-101-113), Apo Golf 356 (84-88-97-87), Camp John Hay 355 (80-111-88-76)
FRIENDSHIP: Wack Wack 423 (113-116-94-100), Iloilo Golf 404 (93-102-104-105), Manila Golf 369 (97-96-90-86), Cebu Country Club B 339 (87-82-85-85), Alabang 326 (83-100-7-67), Bacolod City 306 (76-78-71-81), Guinhalaran 289 (87-69-78-55), Camp Aguinaldo B 211 (81-53-77), Victorias 200 (69-68-63).