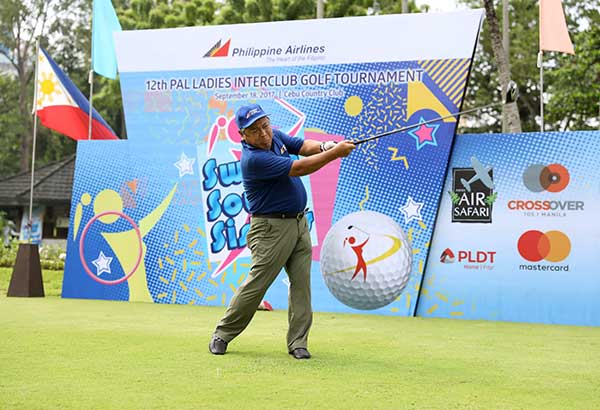 PAL president Jaime Bautista hits the ceremonial drive to usher in the 12th PAL Ladies Interclub at Cebu Country Club.
3-way fight seen as PAL ladies begins
(The Philippine Star) - September 18, 2017 - 4:00pm
MANILA, Philippines — The PAL Ladies Interclub gets going today with a three-way fight looming right in the first round in the centerpiece Championship Division at the Cebu Country Club in Cebu City.
Many-time champion Manila Southwoods-Masters, host Cebu CC and newcomer Pradera Verde brace for a shootout with the lift-clean-and-place rules likely to be in effect at the 5,100-yard, tree-lined layout.
SW-Masters guns for a seventh straight crown but without former ace and now pro Pauline del Rosario although veteran internationalists Sofia Chabon and Mika Fortuna remain and will spearhead the Carmona-based squad's title bid.
Rains the past few days have softened the age-old layout with the organizers likely to apply preferred lies rules.
The weather, according to tournament director Henry Arabelo, has not been bad that a repeat of what happened last year in Baguio where the tournament was shortened to 54 holes will not happen.
"It doesn't look that way, although it has been raining the past few days that winter rules would likely be enforced," Arabelo said while supervising the official practice round on Monday. "We will finish this year and we see a very tight fight."
Focus will be on the Pradera Verde squad bannered by multi-titled Yuka Saso and 13-year-old Annyka Cayabyab, who is coming off a third place finish in last week's Hong Kong Ladies Amateur Open.
Cebu CC, on the other hand, will be playing with a distinct advantage having familiarity of the flat but tough layout as it tries to finally break SW-Masters' domination since the event's revival in 2010.
Other backers of the event are Primax Broadcasting Network, Mareco Broadcasting Network, Fox Sports, Travelife Magazine, People Asia, Asian Air Safari, Airbus, Travel Now Magazine/TouchPay, Bombardier, PLDT and Mastercard.
Support also comes from TFC, Rustan's Commercial Corp., Asia Brewery Inc., Alaska Corp., Eton Properties, Trinity Insurance and Marco Polo Plaza Cebu.