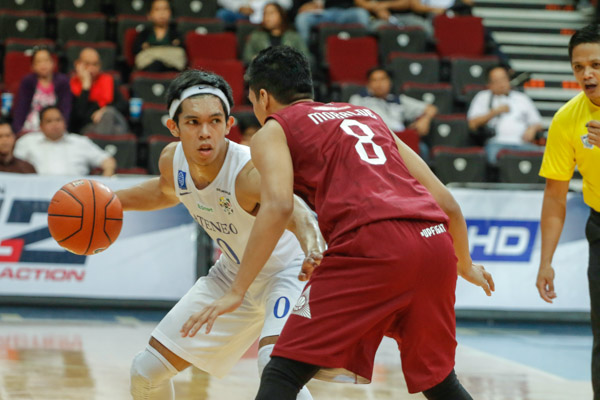 Thirdy Ravena of the Ateneo de Manila University sizes up a UP defender in this file photo. | Philstar.com/Efigenio Toledo IV
Ateneo's Thirdy Ravena cops UAAP Player of the Week plum
(philstar.com) - September 18, 2017 - 4:41am
MANILA, Philippines – The Ateneo Blue Eagles are off to an impressive start in UAAP Season 80 after imposing victories over the Adamson Soaring Falcons, University of the Philippines Fighting Maroons, and most recently, the Far Eastern University Tamaraws.
One of the catalysts of the Eagles' hot start is third-year forward Thirdy Ravena, who was named as the Chooks-to-Go UAAP Press Corps Player of the Week.
The versatile swingman is averaging an all-around effort of 18.0 points, 9.0 rebounds and 2.3 assists per game to lead his team in their pristine 3-0 start.
Ravena edged out runners-up Paul Desiderio of UP and Aljun Melecio of La Salle, both notching career highs in points.
Part of last season's Mythical Five, Ravena shared that he has learned to be a constant force for the Blue and White this year.
"I need to stay more consistent than last season. Last season, I'll have a good game then polar opposite," Ravena said. "I'm just mentally focused coming into the season, that I need to stay consistent."
Ateneo has won over their opponents with a winning margin of 17.6 points per game, with a variety of Eagles contributing in each outing. Ravena has made headlines with his numbers, but his teammates have been just as valuable, an indication of the team's unselfishness and versatility.
"The players have been terrific, their attitude has been that it doesn't matter how many minutes they play, they come in and they do their job. We'd like to keep it that way," assistant coach Sandy Arespacochaga said about the Eagles' depth.
"I have to trust my teammates because everyone's been doing a really good job," echoed Ravena. "We've been winning because everyone's staying together and we followed whatever coach Tab (Baldwin) told us."
Ravena and the rest of the Blue Eagles will look to maintain their record unblemished as they take on the UE Red Warriors on September 24