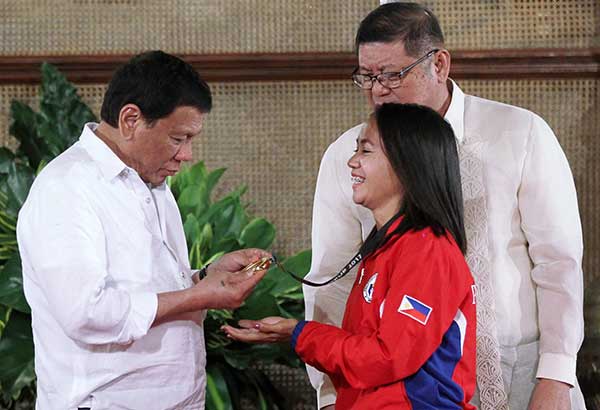 President Duterte shares a light moment with SEAG gold medalist Mary Joy Tabal during the recognition rites for Filipino medal winners in the Kuala Lumpur Games. Also in photo is PSC chairman William 'Butch' Ramirez. KJ ROSALES

Duterte: Widen talent search
Abac Cordero
(The Philippine Star) - September 14, 2017 - 4:00pm
MANILA, Philippines — The country's top sports leaders the other day received a direct order from President Duterte, looking forward to a stronger finish as the Philippines prepares to host the 30th Southeast Asian Games in 2019.
The President spoke in front of the athletes who won a total of 121 medals, 24 of them gold, in the last SEA Games in Malaysia, and said, "Through hard work and discipline, you have prevailed and made our nation proud."
Then he ordered sports leaders led by Presidential Adviser on Sports Dennis Uy, Philippine Sports Commission chairman William Ramirez, Executive Secretary Salvador Medialdea, Philippine Olympic Committee president Jose Cojuangco and Foreign Affairs Secretary Allan Peter Cayetano, chairman of the 2019 SEA Games organizing committee, to look farther in search of talents for future international competitions.
"This will be an opportunity for us to look for talented Filipino athletes from all over the country. Thus, I enjoin the PSC to widen its scope and recruit nationwide," said the President.
"Look for them in non-traditional places and include members of the indigenous tribes and out-of-school youth. Let us give them a chance to hone their talent and live up to their fullest potentials." he said.
Then again, he faced the athletes, and egged them to continue to strive for excellence.
"I encourage our athletes to focus on improving and to strive to do better in the next SEA Games. Rest assured that the government and the Filipino people will support every step of the way. Continue to represent the best of what the Philippines has to offer, here and abroad. Make us proud again," said Duterte.
Earlier during the 30-minute program, the President awarded the gold medalists their citations and cash incentives worth P300,000.
The President shook hands with each gold medalist, including female marathoner Mary Joy Tabal and back-to-back men's triathlon champion Nikko Huelgas.
Tabal said the President, a fellow Visayan, spoke in their dialect and joked about her spending the money she earned on her boyfriend.
"Unsaon mana nimu ang kwarta? Ayaw egasto sa uyab ha? (Aanuhin mo naman ang pera? Huwag gastos sa boyfriend ha?)," the President told Tabal, to which she replied, "Dili, ui (Hindi po)."
The President also told Tabal, of Cebu, "Basta Bisaya matigas talaga noh?" She replied saying, "Opo, sir. Matigas talaga tayo."
They laughed on stage.
The STAR asked Huelgas what the President told him up close.
"Sabi niya, 'Ang galing mo ah. Bilib ako sa 'yo.' (He said, 'You're good. I'm impressed')," Huelgas said, holding his citation and a check for P300,000.
The President shook hands with taekwondo jin Pauline Lopez, then pulled his hand away, gesturing that the charming athlete gripped his hand a little too hard.
The Philippines finished sixth in the medal standings in Kuala Lumpur, just duplicating its 2015 finish in Singapore.
In 2019, as hosts, the Philippines must do a lot better, and be a contender for the overall championship, which it won when it last hosted the biennial event among 11 countries in 2005.
"I express my heartfelt gratitude to the athletes who have represented us in the recently concluded Southeast Asian Games," the President said.