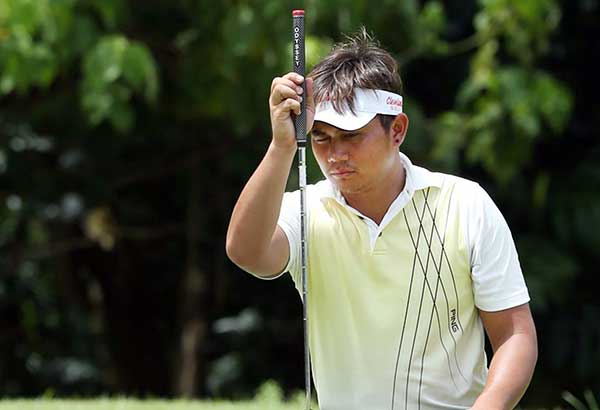 Clyde Mondilla lines up a putt during Day One action in the PGT Asia Riviera Classic at the Riviera Golf and Country Club. JOEY MENDOZA
Mondilla paces Riviera Classic with solid 65
(The Philippine Star) - September 13, 2017 - 4:00pm
SILANG, Cavite, Philippines — Clyde Mondilla leaned on his power while Ira Alido banked on his local knowledge as they churned out a pair of bogey-free rounds in hot but wet condition to take the 1-2 posts at the start of the ICTSI Riviera Classic of the PGT Asia Tour here yesterday.
Mondilla attacked the two par-4s and par-5s at the back of Riviera's Langer layout for four easy birdies, capping a solid 65 (33-32) and a two-stroke lead over Alido, who strung up three straight birdies from No. 10 on his way to a 67 on a course he calls home.
The two local bets' fiery starts put them ahead of the rest of the 105-starting field in this third leg of the region's newest circuit sponsored by ICTSI, majority of which struggled in soggy condition at the par-71 layout which has barely recovered from the wrath of Typhoon Maring Tuesday.
Jerson Balasabas holed out with a birdie on No. 9 and carded a 69 in one of the late flights for solo third with Colombian Wolmer Murillo also turning in a two-under card with three holes left to play.
Rufino Bayron, out to atone for his final round foldup at ICTSI Splendido Classic won by Rene Menor last Sunday, gunned down five birdies but had two bogeys and a double-bogey under preferred lies rule to finish with a 70 for joint fifth with Erwin Arcillas, former club pro Marvin Dumandan, Omar Dungca and Korean amateur and club bet Tom Kim.
Jay Bayron, who nipped Mondilla in a playoff to win here in last year's Philippine Golf Tour's Riviera Classic, bucked a double-bogey mishap on No. 5 but missed joining the one-under par group with a bogey on the last hole. He settled for a 71 for joint 10th with American James Bowen, Jobim Carlos, Colombian Jaime Clavijo, James Ryan Lam and Arnold Villacencio.
Tony Lascuña, also seeking to rebound from a last day meltdown at Splendido, struggled all day, finishing with three bogeys against two birdies for a 72 for a share of 16th with Aussie DJ Loypur, Rey Pagunsan, Elmer Salvador, Elki Kow of Indonesia and Thai Nathanon Varapornkittirat.
But Mondilla and Alido made it look easy with their impeccable games.
"I know I can win this tournament. I'm confident since I know there are par-4 holes that I can attack," said Mondilla, back-to-back winner at Southwoods and the revival of the Philippine Masters last May.
Alido, a rookie who has had a couple of solid starts, pressed his bid again, this time in impressive fashion, although he only got going at the turn, rattling off three birdies-in-row from No. 10 then added another on No. 14 for a 35-32.
"I think I got some edge since this is my home course. But I would still go for safety shots especially in the presence of the wind," said Alido, who placed joint 16th at Splendido.
Menor, who nipped Thai Pasavee Lertvilai in record six-hole playoff at Splendido, failed to get going despite three birdies as he fumbled with three bogeys and a double-bogey to drop to joint 23rd with 73.
Other two over par scorers in the early going of the 72-hole championship, backed by Custom Clubmakers, Meralco, Champion, Summit Mineral Water, K&G Golf Apparel, BDO, Sharp, KZG, PLDT and M.Y. Shokai Technology, Inc., were Indonesian Ian Andrew, third placer in the kickoff leg of the PGT Asia Tour at Southwoods ruled by Miguel Tabuena, Michael Bibat, John Abdon, Aussie Max Duffy, Paul Echavez, Charles Hong, American Andrew Park and Gerald Rosales.