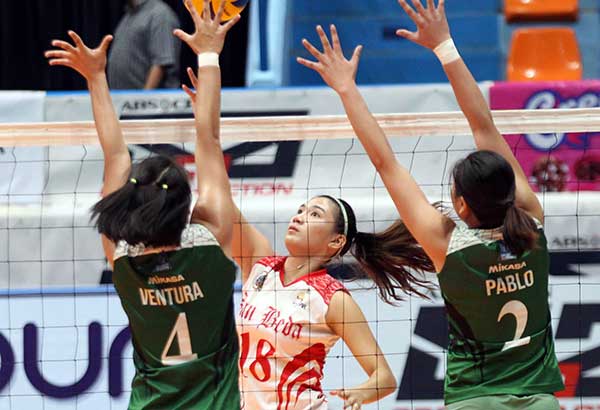 Cesca Racraquin (18) of San Beda challenges St. Benilde's Dianne Ventura's defense during their PVL Collegiate Conference clash at the Filoil Flying V Center. JUN MENDOZA
Red Spikers hang tough vs Blazers, fuel PVL drive
Game Saturday
8 a.m. – San Beda vs La Salle (men's)
10 a.m. – Ateneo vs UP (men's)
1 p.m. – TIP vs Adamson (women's)
4 p.m. – Ateneo vs Lyceum (women's)
6:30 p.m. – NU vs FEU (women's)
MANILA, Philippines — San Beda pulled through in a close fourth set duel and drubbed College of Saint Benilde, 25-21, 25-20, 17-25, 25-22, to bounce back in the Premier Volleyball League Collegiate Conference at the Filoil Flying V Center in San Juan yesterday.
Cesca Racraquin powered the Lady Red Spikers midway in the fourth after trailing early on while Trisha Paras, Nieza Viray and Satrriani Espiritu took turns in fending off the stubborn Lady Blazers down the stretch to join tormentor Arellano U at 2-1 in Group B play paced by Adamson U at 2-0.
SBC bucked a pair of shaky finishes to take the first two sets but yielded the third frame on a strong St. Benilde fightback before closing out the match in the fourth to get back in the hunt for one of the two semifinal berths in their side of the two-division tournament organized by Sports Vision.
"That's our tendency. When we take the first two sets, the girls tend to relax. That's what also happened to us in our win against TIP (25-13, 25-18, 25-27, 25-13)," said SBC head coach Nemesio Gavino Jr. "That's what we need to improve. I just told them we need to finish the match otherwise we put to waste our earlier efforts. It's a good thing they responded well."
Racraquin hammered in 15 points, including 12 kills, while Nieza Viray delivered 12 markers for the Lady Red Spikers.
Ranya Musa scored a game-high 21 points and helped CSB put up a formidable net defense, accounting for eight of the team's 15 blocks against San Beda's four.
But the Lady Blazers' poor service reception (four to the Lady Red Spikers' 10 aces) and 37 miscues, six more than SBC, hastened their downfall, their second in as many games in the company of Technological Institute of the Philippines.
Earlier, Ateneo sustained its hot start and crushed St. Benilde, 25-13, 25-22, 25-22, to stretch its win run to four and assure itself of at least a playoff for the last semifinal berth in the men's side of the league backed by Mikasa and Asics.
Far Eastern U also moved closer to a Final Four stint as it repulsed UST in a tight contest, 25-23, 25-23, 26-24, to improve to 3-1.
Lyceum leaned on Christine Miralles and La Rainne Fabay at endgame as it prevailed over Jose Rizal University, 25-20, 24-26, 25-13, 25-22, to tie Ateneo at 1-1 in Group A. JRU dropped to 0-3.