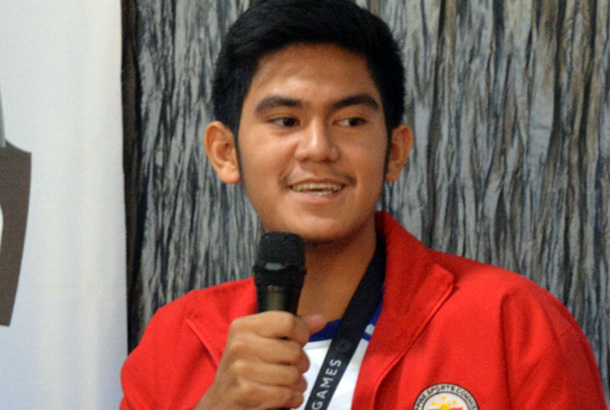 SEA Games archer Gab Moreno | Contributed Photo
SEAG bronze medalist Moreno stresses archery a 'mental' sport
MANILA, Philippines — At face value, much of the premium put on archery is on dexterity.

But that's not the case, according to Southeast Asian Games bronze medalist Gab Moreno.

"It's 90 percent a mental sport," he shared during Usana's homecoming for the delegates of the biennial meet. "It's just 10 percent physical."

"To carry the bow? It's actually heavy. A normal person won't be able to pull it for like 10 times. And we do it repeatedly for long hours. But it's really more mental," he continued.

A proper mindset, according to the archer who first got into the sport at age 6, always comes first.

"It's important to be positive. Every time you pull a bow, once na may pumasok na negative, lilipad na 'yung bala (arrow) mo. It's very difficult for us to maintain positivity cause we also get tired. Then the pressure, the doubts come in. Doon mo makikita 'yung training na namin — that we have to entertain positivity instead of doubts."

Moreno, a member of the three-man crew that won bronze in the recurve men's event, said that he learned such lesson in the the most unforgettable fashion.

"I remember training for the Rio Olympics," he said. "I lost by a point. I was almost there."

Back then, Moreno recalled, his only goal was to qualify for the global event. And that has backfired for him. He competed twice for a spot in the Olympiad. He was unable to make it in the Denmark contest and then again missed his chance when he fell short in Bangkok behind Kazakhstan's Sultan Duzelbayev.

"Some athletes, their goal is to just qualify," he offered. "When you set a not-so-high goal and you miss it, it makes you think that you should've maxed it out — aimed for the highest, 'di ba?"

"I couldn't sleep for so many months," said the 19-year-old athlete. "I wasn't envisioning myself on winning kasi. I think that's what was wrong with me during that time."

And now with a bronze perhaps his life's biggest lesson, Moreno said he has set his sights on the Asian Games next year and the SEA Games slated here in 2019.

"I know I can do so much better," he said.

As if that's not enough positivism from the young athlete, he went on: "Then three years from now, Tokyo 2020."