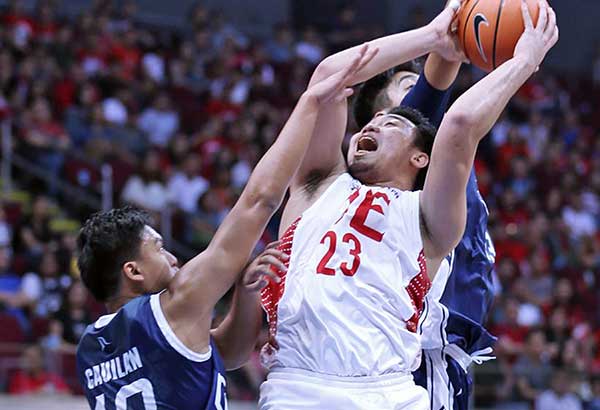 Red Warrior Alvin Pasaol takes a shot from a difficult position as he is guarded in front by JP Cauilan (18) and Matthew Aquino (behind) of National U in the opener of the UAAP Season 80 yesterday at the Mall of Asia Arena. Joey Mendoza
Eagles claw Falcons in UAAP opener
Olmin Leyba
(The Philippine Star) - September 9, 2017 - 4:00pm
MANILA, Philippines — Embracing its tag as one of the top-flight teams, Ateneo flexed its muscles and tore fellow contender Adamson to shreds, 85-65, for a rousing start in UAAP Season 80 men's basketball at the Mall of Asia Arena yesterday.
Import Chiz Ikeh, pouncing on the absence of injured Adamson slotman Papi Sarr (groin), put up a dominant performance in the first half to touch things off for AdMU in the wire-to-wire triumph.
Ikeh finished with 18 points and 17 rebounds to backstop Thirdy Ravena who fired a game-high 20 on top of 10 boards.
"Good win," said AdMU assistant coach Sandy Arespacochaga. "We were a bit lucky Papi Sarr wasn't in the game but actually we weren't surprised Ikeh played well considering how well he was playing in practices. We got a lot of extra possession with Ikeh's rebounds."
He lauded the Ateneans for holding the usually hot-shooting Adamson to 22 of 61 clip.
"We're happy with our defense, limiting Adamson to 36 percent field goal and we're happy we played well against this tough team," said Arespacochaga.
New faces Kurt Lojera (11) and Keith Zaldivar (10) led the way for Adamson, which sorely missed Sarr's usual numbers of 14.4 points and 14.9 rebounds and got badly outrebounded 35-60.
In the first game, National U welcomed new coach Jamike Jarin with an emphatic 86-69 mangling of University of the East.
Dave Yu rifled in 14 points, doing the most damage in the third period to allow NU to break away, and added eight rebounds, two assists and two steals. Jayjay Alejandro shot 11 markers that went with seven feeds and five interceptions as NU booked its maiden win under Jarin.
"It feels good but there's a lot of things to work on, especially this early – a lot of mistakes, a lot of excitement. Always hard to play the opening game; you don't know what time it will start, things like that. So we're just happy we got the win on opening day," said Jarin.
The Bulldogs seized an early 20-13 tear behind the eight-point effort of Issa Gaye and remained ahead at the turn, 38-30, gaining from the seven-point explosion of Reggie Morido in the second period. The Warriors caught up in the early part of the third before Yu waxed hot and restored a double-digit spread.
Meanwhile, La Salle kicks off its title defense against host Far Eastern U in the 4 p.m. mainer today, renewing their heated rivalry from last month's brawl-marred match in Davao.
The Archers take the court without MVP Ben Mbala, who suited up for Cameroon in the Fiba AfroBasket and led the team with 15 points and six rebounds in a 51-68 loss to Tunisia yesterday.
Olsen Racela debuts at the Tamaraws bench in the 4 p.m. setto, looking to continue the winning ways started by his brother Nash.
University of Santo Tomas, a team led by Marvin Lee, Oliver de Guzman and new import Steve Akomo, collides with souped-up University of the Philippines in the 2 p.m. curtain-raiser.
Notes: Great athletes of yesteryear joined the current crop of student-athletes in the traditional parade of teams during the opening rites, reminiscing their best experiences and hoping to inspire the young ones to continue striving for greatness. "(Our record 14-0 sweep in 1993 was the most memorable)," said UST great Aric del Rosario, who won titles as a player in the 1960s and a four peat as coach from 1993-97. Del Rosario was among the legends UST called for the parade, along with basketball stars Cyrus Baguio and Dylan Ababou and taekwondo legends Dindo and Jasmine Simpao."We just hope that, in this little way, we could still inspire a lot of players that they can get to many places through sports," Taguig Rep. Pia Cayetano, a former volleyball player who joined the entourage from UP.
The scores:
First Game
NU 86 – Yu 14, Morido 12, Alejandro 11, Gaye 11, Aquino 9, Diputado 6, Salem 5, Abatayo 5, Bartlett 5, Mosqueda 4, Joson 2, Lastimosa 2, Cauilan 0, Tibayan 0, Flores 0.
UE 69 – Pasaol 14, Maloles 10, Acuno 10, Olayon 6, Abanto 5, Armenion 5, Derige 5, Manalang 4, Conner 2, Cruz 2, Cullar 2, Bartolome 2, Varilla 2, Gagate 0.
Quarterscores: 20-13, 38-30, 66-53, 86-69.
Second Game
AdMU 85 – Ravena 20, Ikeh 18, Mendoza 14, Asistio 9, Tolentino 7, Go 4, Ma. Nieto 3, Porter 3, White 3, Black 2, Ma. Nieto 2, Andrade 0, Mallilin 0, Mamuyac 0, Verano 0.
AdU 65 – Lojera 11, Zaldivar 10, Ahanmisi 9, Manganti 9, Manalang 6, Hill 6, Pingoy 5, Ochea 3, Camacho 3, Bernardo 3, Mustre 0, Chua 0, Frias 0.
Quarterscores: 25-16, 43-28, 59-45, 85-65.