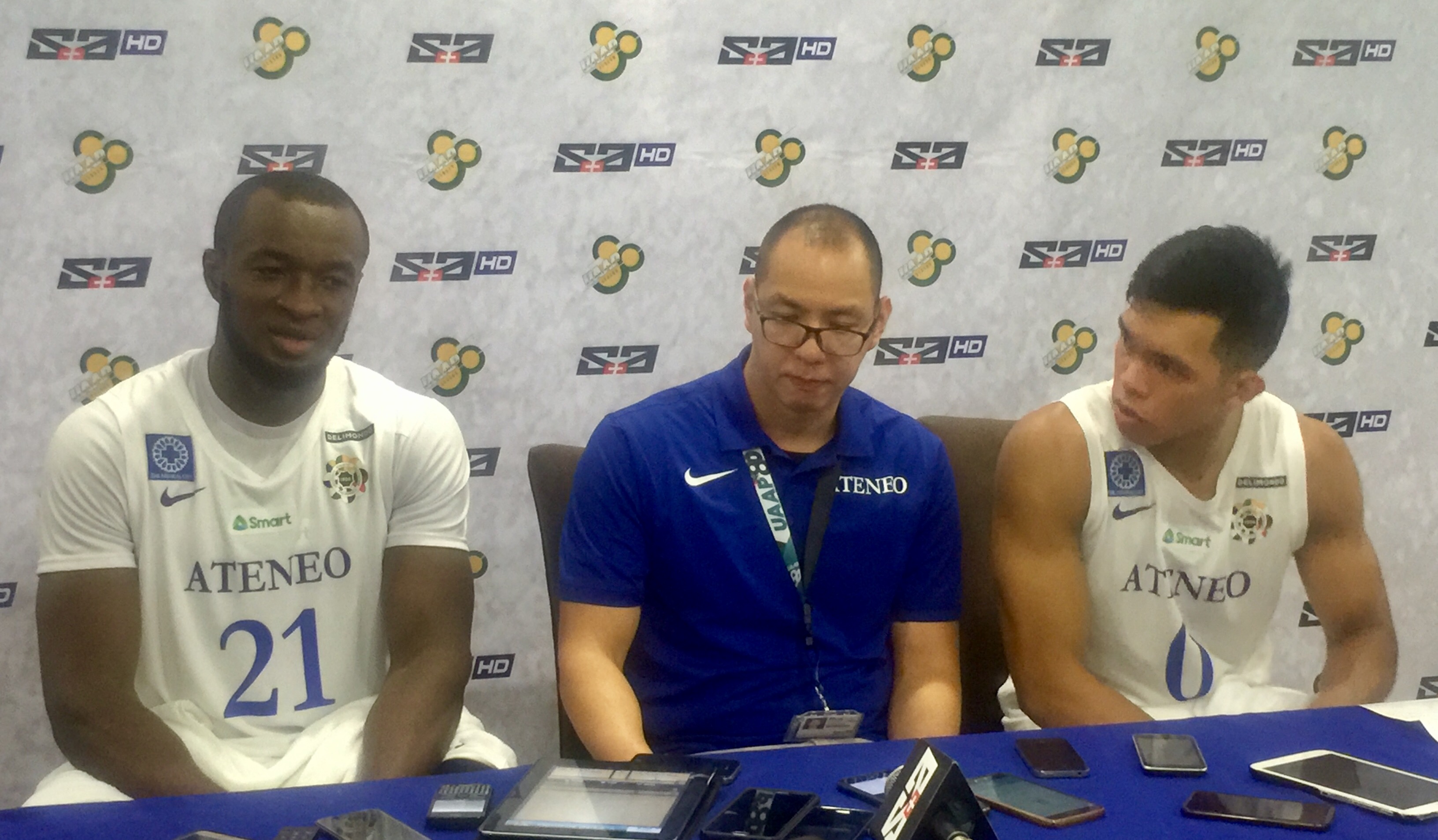 Chiebueze Ikeh, assistant coach Sandy Arespacochaga and Thirdy Ravena during the post-game presser of the Ateneo-Adamson UAAP tussle, Saturday at the Mall of Asia Arena. | Philstar.com Photo
Ikeh, Ravena power Eagles past Falcons
MANILA, Philippines — Chiebueze Ikeh barely had a standout performance for Ateneo in his career as a Blue Eagle. But all that changed in the first game of his final playing year.

The Eagles' big man poured 18 points to back up Thirdy Ravena's team-best 20 to power Ateneo de Manila University past a Papi Sarr-less Adamson University on UAAP's Saturday nightcap at the Mall of Asia Arena.

"Thanks to the guys in the locker room, my teammates. They've been the one pushing me to be in the right place and in the right time," the reinforcement said. "It's been a tough process but we've been working hard."

Ikeh's stellar showing was in cadence with Ateneo's subscription to the approach that anyone can lead the team rings true. They convincingly beat last year's dark horse, 85-65.

While Ravena has been an expected source of production, the Nigerian's performance is a testament to the Blue Eagles' approach.

Like what I've said before, it could be anyone. Whoever coach Tab (Baldwin) is fit in that situation, I think that's who is going to put inside. We all understand that cause we know we have to play together," Ravena shared.

"If we need na kailangang maglaro yung isang player to takeover, we're all open in giving him the ball and letting him take over the game," the Season 79 Mythical Five member added.

But really, the cohesiveness is all thanks to last year's failed bid to snare the title.

"Leading up to this season, we've been practicing for seven months. We had that feeling of losing a 'ship with us for seven months or eight months. We've been preparing. As time went by, papalapit nang papalapit yung season, mas nanggigigil kami lalo," Ravena bared.

"But coach Tab and the staff did a great job keeping us composed, always telling us that there's always pressure, so we need to relax and have a clear state of mind so whenever you need to make decisions, you'll probably gonna make the right ones," he said.

That was on full display when the Falcons threatened to pull the rug on the Eagles at the seventh-minute mark of the fourth quarter.

Eagles will get to test how far their mentality will take them when they tackle the UP Fighting Maroons — who have brought in in prized recruits to their fold — on Wednesday at the Big Dome.