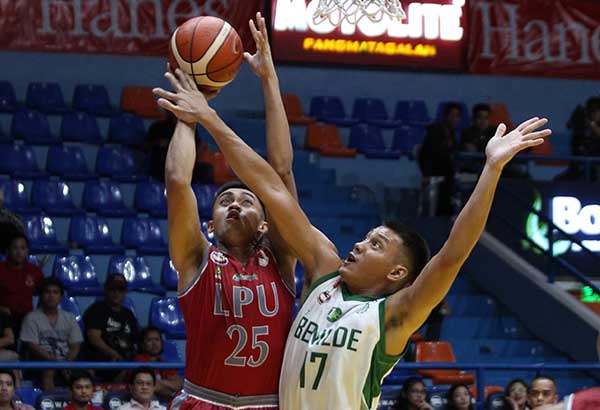 Lyceum of the Philippines University bucked an erratic stint and repulsed College of St. Benilde, 83-69, yesterday to stretch its win run to 11 in the NCAA men's basketball tournament at the Filoil Flying V Center in San Juan. Jun Mendoza
Pirates halt Blazers, stretch win run to 11
Joey Villar
(The Philippine Star) - September 8, 2017 - 4:00pm
Games Tuesday
12 noon – Arellano U vs Mapua (jrs)
2 p.m. – Arellano U vs Mapua (srs)
4 p.m. – Perpetual Help vs San Sebastian (srs)
6:30 p.m. – Perpetual Help vs San Sebastian (jrs)
MANILA, Philippines — Lyceum of the Philippines University bucked an erratic stint and repulsed College of St. Benilde, 83-69, yesterday to stretch its win run to 11 in the NCAA men's basketball tournament at the Filoil Flying V Center in San Juan.
CJ Perez shot 14 points while MJ Ayaay and Cameroonian Mike Nzeusseu chipped in 12 and 10 points, respectively, as the Pirates pulled off the 14-point victory despite 23 turnovers to keep their unbeaten run that moved them closer to a first-ever Final Four appearance.
"We're far from being satisfied (with our win). We have lots of turnovers and we really have to take care of the ball," said LPU assistant coach Jeff Perlas.
Earlier, San Beda routed Mapua, 88-70, despite playing sans its coach and two key players as the Lions stayed behind the Pirates with a 10-1 card.
AC Soberano fired 17 points, including three triples, while Jayvee Mocon hit 11 points and snared 10 rebounds as the Lions picked up their ninth straight win despite the absence of coach Boyet Fernandez and teammates Robert Bolick and Clint Doliguez.
In the third game, San Sebastian trounced Emilio Aguinaldo College, 81-69, to barge into the magic four with a 5-5 record.
The scores:
First Game
San Beda 88 - Soberano 17, Mocon 11, Tankoua 9, Noah 9, Cabanag 8, Potts 8, Oftana 6, Tongco 5, Adamos 5, Abuda 4, Presbitero 2, Carino 2, Bahio 2
Mapua 70 - Gabo 17, Aguirre 16, Nieles 13, Pelayo 9, Bunag 8, Raflores 4, Victoria 3, Orquina 0
Quarterscores: 18-17; 40-32; 58-49; 88-70