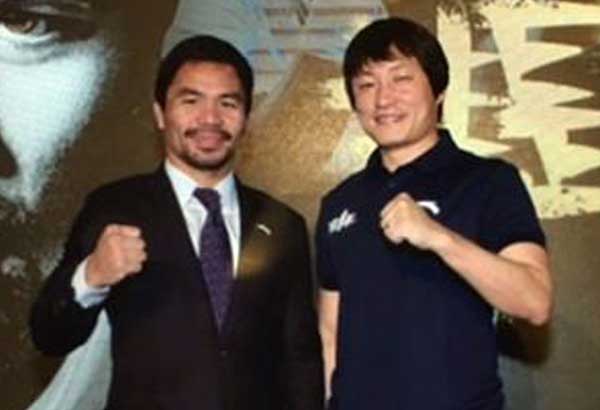 Sen. Manny Pacquiao is introduced to the Chinese market as an Anta endorser by Anta deputy chairman Ding Shijia.
Rematch talks still in progress
MANILA, Philippines — Sen. Manny Pacquiao said yesterday his rematch with WBO welterweight champion Jeff Horn of Australia remains under negotiation and he's optimistic of finalizing a deal to make it happen at the 55,000-seat Philippine Arena in Bulacan late this year.
Asked to comment on Australian promoter Dean Lonergan's recent announcement that he has withdrawn from the rematch initially set for Nov. 12, Pacquiao said he didn't know anything about it. If negotiations work out, Pacquiao said the return fight could be held in November or December.
Lonergan said Pacquiao is scheduled to go on a state visit to China and government duties will interfere with his preparations for the rematch so that Horn may fight somebody else in November. Jessie Vargas, whom Pacquiao decked twice and decisively beat on points last year, has been mentioned as a possible opponent. Another option is MMA brawler Conor McGregor who was stopped by Floyd Mayweather, Jr. last week. Neither Vargas nor McGregor could pull in the kind of sales figures that Pacquiao would.
Pacquiao is slated to fly to Beijing on Sept. 27 but it won't be a state visit. He's attending a boxing show produced by MP Promotions with Sean Gibbons as matchmaker on Sept. 29. Pacquiao will be back in Manila on Sept. 30. The show will feature eight bouts with the main event a WBO title fight. Five Filipino fighters will be brought in. Chinese boxers, including featherweight Que Xu, will figure in every match. Que fought in the Pacquiao-Vargas undercard in Las Vegas last November and has a 10-2-1 record, with 3 KOs.
Pacquiao is a major attraction in China and last month, was introduced as an Anta brand ambassador during a trip to Xiamen and Beijing. The huge Chinese market is a magnet for investors, businessmen and service providers. According to Pacquiao, a regular boxing event with no world titles at stake can easily draw a TV audience of 300 million. If a pay-per-view subscription is $10, an audience of 100 million will generate revenues of $1 Billion. Considering Pacquiao's popularity in China, his fight should attract a pay-per-view audience of over 300 million.
Pacquiao declined to reveal details of the talks with Horn's camp. However, a source said the rematch clause stipulates a purse of $1.7 Million for Horn if it's held in Australia and Pacquiao has offered the champion $3 Million to fight in the Philippines. What is now being discussed is the split of the TV rights and pay-per-view income. Horn has supposedly asked for a larger share of the Australian and New Zealand pie. Would investors or sponsors be able to put up a purse to make it worth the effort for Pacquiao? "Don't worry about me," he replied.
Pacquiao said once the rematch is set for the Philippine Arena, he'll invite celebrities to be at ringside, including Mark Wahlberg and Sylvester Stallone. He also plans to invite Mayweather.
Pacquiao said he hopes to regain the WBO welterweight crown from Horn before the year ends so that negotiations can begin to bring Mayweather out of another retirement. If Mayweather agrees, the plan is to stage their rematch in April or May next year. By then, Pacquiao will be 39 and Mayweather, 41.