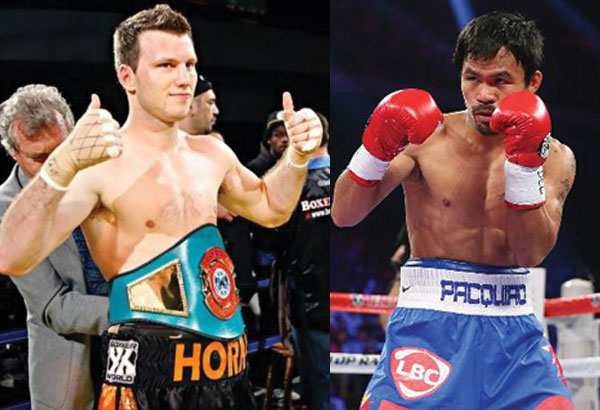 Jeff Horn and Manny Pacquiao
Horn moves on from Pacquiao, starts talks with Vargas
MANILA, Philippines -- With Manny Pacquiao turning down a November 12 rematch with Jeff Horn, the Australian's camp has reportedly started negotiations to fight a different opponent.
According to a report by Brisbane-based 7 News, Horn's side has began efforts to seal a deal with the camp of former champion Jessie Vargas, who interestingly previously fought Pacquiao.
And the 29-year-old Horn likes the match-up so far.
"I feel like I've got the moves to take Jessie down," Horn told 7 News.
Vargas used to be the WBO welterweight champion until Pacquiao routed him last year in Las Vegas.
The same title didn't stay long on Pacquiao's waist as Horn stunned the Filipino icon in their well-attended bout at the Suncorp Stadium last July 2.
Pacquiao and Horn was supposedly headed to a rematch this November, but the former wanted to stage it in the Philippines. This, according to Top Rank Inc. chief Bob Arum, is impossible because they are contractually obliged to do it again in Australia.
The fighting senator then decided that he'll just face Horn again next year.
Horn, for his part, wants to sustain the momentum of his massive upset of Pacquiao and fight someone else.
He believes Vargas will be a worthy alternative.
"He's a former world champion so he'll definitely be a hard fight," said Horn.