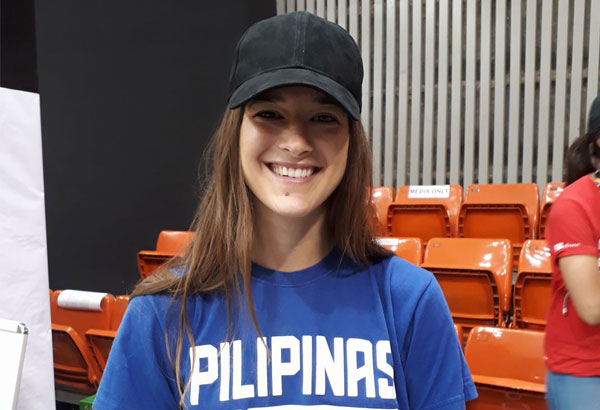 Perlas brings in Fil-Am Euroleague vet in next SEAG
KUALA LUMPUR – Once again coming up short in their title bid here, Perlas Pilipinas patron Dioceldo Sy is now looking forward to end the women's basketball SEA Games jinx in 2019 in Manila with the possible addition of Philippine-born American player Kelly Hardeman.
Sy is hoping the Samahang Basketball ng Pilipinas works on her naturalization process right away so she can play with Perlas as early as in the Asian Games next year.
The Ever Bilena owner said he may give up support to the team if the national cage federation isn't able to get Hardeman's naturalization papers.
"That's what I want to discuss with the SBP. If the SBP can naturalize her, we'll be all out in our support. If not, it's a waste of time," said Sy.
Hardeman, a six-foot EuroLeague veteran at 22, was behind the Perlas bench as the Filipinas mauled Vietnam, 118-44, to end on a winning note their campaign in the 29th SEA Games at the MABA Gymnasium here Friday.
They closed out with a 4-2 win-loss card but could only hope to salvage the bronze medal at the end of hostilities Saturday.
"We missed our target, but nobody's to blame. It's a lesson that we should work harder and prepared better," said Sy. "The preparation here was not good enough, but the girls played hard the way we saw it."
Sy felt they could've achieved the goal, but time was not on their side concerning their proposed naturalization of Hardeman.
"We're waiting for the SBP. They're still looking for their prospect for the men's team, and I think the plan is to process their papers at the same time," said Sy.
"Kerry is very much willing to play for the country. She's played in the EuroLeague and is set to play for Australia early next year. During her break, she's ready to come over and play for the country anytime," Sy also said.
Hardeman was born of American missionary parents at St. Luke's Hospital-Quezon City in 1994. And she studied elementary to high school at Faith Academy in Antipolo which she's helping with their sports program now.
"I hope it works out," said Hardeman of her chance to don the Perlas jersey.
"I already felt I was part of the team. I was so upset (during the Philippine-Malaysian game) something that wasn't right happened. I was thinking what if I was there, how would I fit in and hopefully be able to make that a win next time," said Hardeman.
"I think I'm hardworking. And just being able to move as a big man and play multi-position, inside and outside, that's make me hard to guard," she said on what she can bring to Team Philippines.
Hardeman averaged 14.4 points and 10.5 rebounds with the Amager-Denmark team in the EuroLeague.
"The FIBA honors jus soli (birthright citizenship). So if Kelly is accorded a Philippine passport, she can play as a local and we can get an extra naturalized player," said Sy.
The scores:
Philippines 118 – Rseultay 26, Dy 23, Pontejos 15, Castro 12, Animan 8, Bernardino 6, Cabinbin 6, Almazan 6, Tongco 6, Abaca 4, Sambile 4, Lim 2.
Vietnam 44 – Huynh 9, Trat 8, Nguyen 7, Nguyen T. 4, Bui 4, Nguyen D. 4, Tran 2, Linh 2, Nguyeng NB. 2, Bui 2, Pham 0.
Quarterscores: 20-21, 52-23, 86-33, 118-44