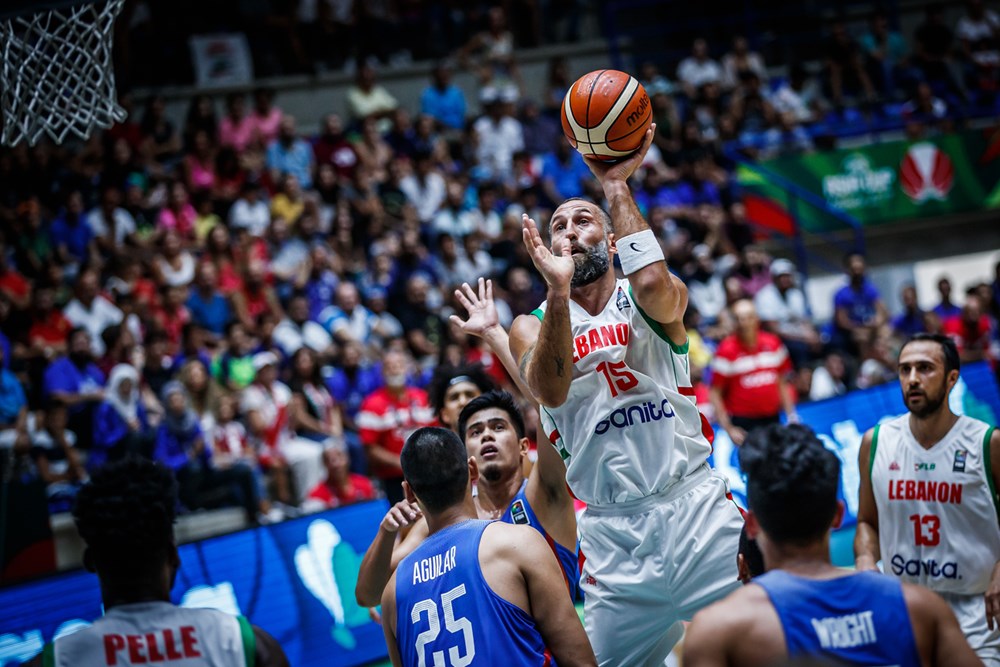 Lebanon's Fadi El Khatib scores over the Gilas defense during the classification play of the 2017 FIBA Asia Cup in Beirut, Lebanon, Saturday night (Manila time). | FIBA.com Photo
Lebanon outclasses Gilas; Chot ejected
MANILA, Philippines — After suffering a blowout at the hands of the South Koreans, Gilas Pilipinas was again dealt with a gut punch, losing to Lebanon, 106-87, in the classification play of the 2017 FIBA Asia Cup in Beirut, Lebanon Saturday.

Fadi El Khatib once again flashed his seemingly ageless side, leading the scoring charge for the Lebanese with 36 points.

Terrence Romeo was again the Filipinos' top scorer, but he was only able to put up 19 points in a game marred with questionable calls and non-calls.

The hosts opened the game with a 7-0 tear. Behind the 37-year-old El Khatib, they went on to dictate the tempo before the Filipinos showed some signs of life late in the second period.

The Filipinos pulled to within eight before the halftime break.

As if being in the backseat wasn't bad enough, Gilas lost head coach Chot Reyes to two technical fouls he picked up midway the final frame.

Lebanon simply outclassed the Philippines in rebounds (44-29), assists (27-17), points in the paint, (48-22) and in fast break points (29-10).

Gilas takes on Jordan next in a battle for seventh place.

Lebanon, for its part, will tackle China.

This is the Philippines' worst finish in the last four editions of the tourney. Gilas was a steady second place finisher in the last two iterations -- in Changsha in 2015 and in Manila in 2013. It landed at fourth place during the 2011 skirmish in Wuhan, China.

The scores

LEBANON 106 - El Khatib 36, Pelle 23, Souaid 11, El Nour 9, Haidar 9, Saoud 8, Mezher 6, Bawji 4, El Chartouny 0

PHILIPPINES 87 - Romeo 19, Castro 13, Fajardo 13, Wright 12, Cruz 8, Aguilar 6, Pogoy 5, Norwood 4, Abueva 3, Almazan 2, Jalalon 2,

Quarterscores: 29-18, 50-42, 75-61, 106-87