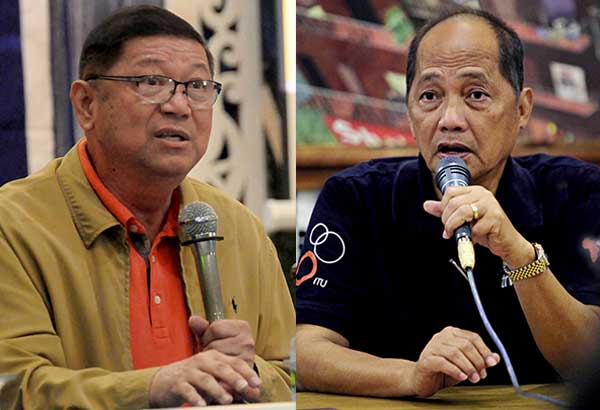 William Ramirez and Tom Carrasco
SEAG task force head: We're ready
Abac Cordero
(The Philippine Star) - August 12, 2017 - 4:00pm
MANILA, Philippines - The Philippine athletes to the 29th SEA Games in Kuala Lumpur have gone through all the humps and bumps heading to the actual competition.
This is the assessment made by Tom Carrasco, who heads the SEA Games task force composed of officials from the Philippine Olympic Committee and Philippine Sports Commission.
"Yes, we are ready. We are ready," he said.
Athletes from soccer, archery and some aquatics events were among the first batch of athletes that have left for the Malaysian capital, ahead of the opening on Aug. 19.
The main bulk of athletes, coaches, trainers, medical and technical staff and other officials, which leads to a grand total of 719, will leave in two big batches on Aug. 17 and 18.
After countless meetings with the different NSAs (national sports associations) over the past months, Carrasco has a good grip on the overall situation.
He said the PSC under chairman William Ramirez has done its share as far as the preparations are concerned, and has provided the athletes their basic needs.
"There are no complaints from the NSAs," said Carrasco.
Only a handful NSAs experienced some delay in the procurement of their needs for their training and actual competition due to government red tape, and the PSC managed by just providing the NSAs with direct financial assistance (FAs).
The NSAs saved a lot of time by procuring the equipment themselves, including bowling which needed the type of oiling machine used by their foreign counterparts.
"It was crucial that the athletes were provided with their requirements. That's why my assessment is that their morale is very high right now," said Carrasco.
The Philippines will see action in 37 of the 38 sports in this year's calendar that's offering a total of 405 gold medals.
The Filipinos are aiming to win 10 percent or a little more of the total, and should be very lucky to bring home 50 gold medals, as predicted by chef-de-mission Cynthia Carrion.
"Nothing is impossible," said the female chef-de-mission.
Carrasco said expected to deliver the gold are athletics, boxing, billiards, cycling, judo, shooting, wushu, triathlon, archery, aquatics, rugby, squash, karatedo, sepak takraw, gymnastics, lawn balls, bowling, sailing, water-skiing, ice hockey, figure skating and basketball.
If successful, the Philippines may surpass its haul in 2015 in Singapore, and do better than sixth place in the overall standings.
"Pag hindi, martial law na," Carrasco said in jest.