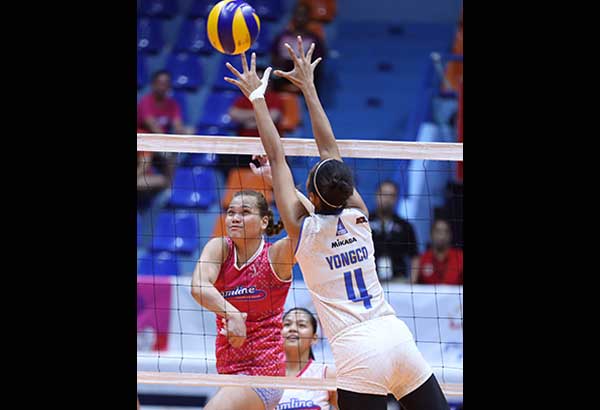 Creamline's Rosemarie Vargas tries to complete a running attack against Iari Yongco of Air Force during their duel for third in the PVL Open Conference. JOEY MENDOZA
BaliPure rips Pocari, nears title Pablo bags MVP plum
(The Philippine Star) - August 12, 2017 - 4:00pm
MANILA, Philippines - BaliPure outclassed Pocari Sweat in all departments of the game as it scored a surprising straight-set 25-22, 25-19, 25-22 victory to close in on a first-ever Premier Volleyball League crown at the Filoil Flying V Center in San Juan last night.
The Water Defenders proved hungrier and fiercer, checking a late meltdown in the opening set, battling back from six points down in the second then holding sway in the third to complete the rout of the defending champions in the opener of their best-of-three series.
That put BaliPure a win away from avenging its sudden death loss to Pocari Sweat in the recent Reinforced Conference finals and scoring a breakthrough win in the country's premier women's volley league.
Coach Roger Gorayeb credited his wards' determination and their ability to carry out his plays that actually duplicated their compelling 25-21, 25-16, 25-23 sweep of the Lady Warriors in the elims of the mid-season conference.
Earlier, Creamline also scored an easy 25-15, 25-21, 25-19 win over Air Force in their own series for third.
Mega Builders pulled off an 18-25, 25-23, 26-24, 22-25, 25-13 squeaker over Cignal TV to force a sudden death for the men's crown.
Aiko Urdas took charge for the Water Defenders with 15 hits, including 12 attack points and three blocks, then the former National U mainstay said the win only bolstered their confidence as they go for a sweep and their first crown on Wednesday.
The victory also spoiled Pocari Sweat ace hitter Myla Pablo's big night after the former NU star took the Conference MVP plum in brief rites before the start of the finals.
Poor reception stymied the Lady Warriors' attacking game and the Water Defenders cashed in on their rivals' miscues and mishits to prevail.
Two-set up and all-pumped up, the Water Defenders, who eased out the Creamline Cool Smashers in the semis, took control of the third set but needed to hang tough in the stretch to thwart the Lady Warriors' last-ditch rally.
Jerrili Malabanan scored three of BaliPure's last five points with Risa Sato finishing off the three-time champions on a quick hit that Gyzelle Sy had failed to stop.
BaliPure nearly squandered a huge six-point lead in the first set but re-grouped down the stretch to clinch it, then the Water Defenders overcame a slow start in the second frame and rallied from six points down to go 2-0.
Angelica Cayuna, coming in ahead of ace setter Jasmin Nabor, made the most of her rare stint, scoring on a quick swipe that shattered the 22-all count in the opening set.
Malabanan soared and scored in a superb combination play then Urdas knocked off the Lady Warriors with a hit from the back row.