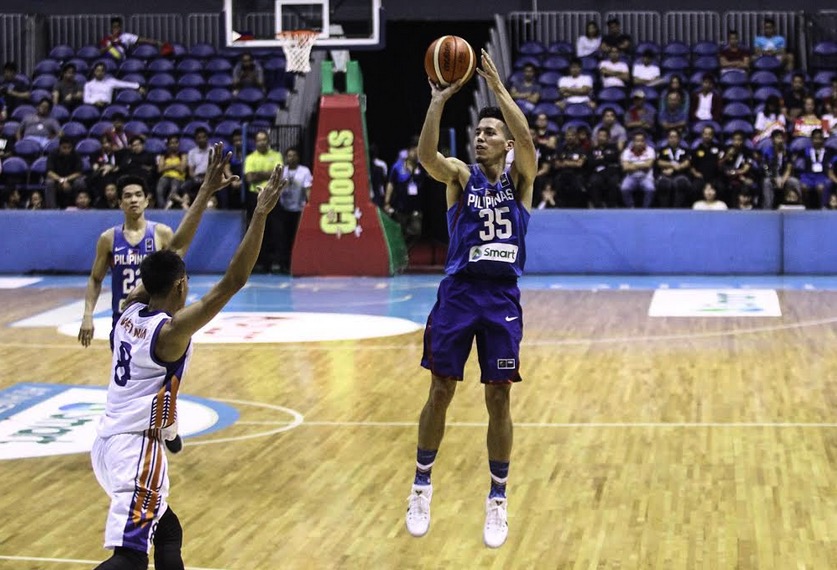 Gilas Pilipinas' Matthew Wright during the 2017 SEABA Championships | File Photo
Wright cites familiarity with Canadian squad as advantage in Jones Cup tussle
MANILA, Philippines – Gilas Pilipinas need not look far an advantage in their opening game in the 39th William Jones Cup this weekend.
Sharpshooter Matthew Wright said he knows some players who will be representing Canada in the invitational tournament in Taiwan.
"I know a few guys by name. There's a couple of guys I know personally," he noted. "They're a good team. On paper, they should be the best team in the tournament."
The circumstance, the Filipino-Canadian out of Phoenix Fuelmasters, lit a competitive fire in him.
"I'm excited to play them first," he noted. "We will be thrown out to the fire and see how well can we play against a big and (legitimate)-size roster."
The 26-year-old Wright grew up in Toronto where he played in various Filipino leagues. He moved to the United States where he suited up for St. Bonaventure.
The 6-foot-4 guard went on to play for Westports Malaysia in the Asean Basketball League where he became a champion before finding his way to the Philippine Basketball Association.
"I played with some of them," Wright said of the Canadian team. They are good, they have a lot of size and athletic, their length might cause a little of bump for us."
"But it's going to be their first game, also. We've been practicing hard and playing a lot longer than [them]," he added.
"This is a perfect barometer for us to see where we are," Wright said of Gilas' chances which will be put into test 3 p.m. on Saturday.
"We're also trying to win. I'd say realistically, there's a good chance of us winning," he closed.