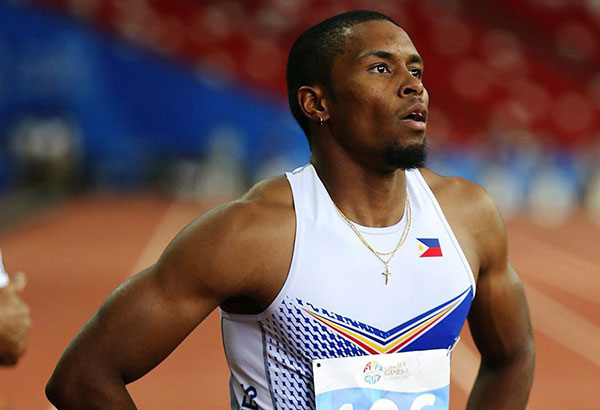 Cray tops 400m, Beram rips 200m mark in Asian Athletics
Olmin Leyba
(The Philippine Star) - July 9, 2017 - 4:00pm
MANILA, Philippines - Olympian Eric Cray dominated the men's 400-meter hurdles while Trenten Anthony Beram shattered the 200-meter run mark on a productive day for the Philippines in the 22nd Asian Athletics Championships in Bhubaneswar, India Saturday.
Playing true to form, Cray covered the distance in 49.57 seconds to cop the mint over runner-up Chen Chieh of Chinese-Taipei (49.75) and third-placer MP Jabir of India (50.22).
Also left in the wake of the Fil-Am's winning run were Dmitriy Koblov of Kazakhstan (50.30), Yu Chia-Hsuan of Chinese-Taipei (50.90), Santosh Kumar of India (50.95), M. Karam of Kuwait (51.36) and Yuta Konishi of Japan (51.72).
Cray's golden effort, coupled with the earlier silver won by Harry Diones in triple jump and the bronze captured by EJ Obiena in pole vault, catapulted Phl to seventh overall in the medal standings after Day Three.
Beram broke his own Phl mark of 21.12 seconds set at the Patafa trials last year with a 21.05 clocking in Heat 3 of the men's 200m run. He later submitted 21.07 in the semis to qualify for the finals with the sixth-best time.
Meanwhile, Obiena's celebration took a sour turn as he discovered his pole set damaged apparently due to mishandling by the airline personnel.
"I was walking to pick up the pole from the airport when I saw it lying down with its lock missing with a big cut in the middle of the case. I immediately opened the bag and saw all my poles were damaged beyond usable," he wrote in a plea for help and donation on his website "ernestobiena.com".
He estimated the poles and the pole bag to cost around $7,020 in all and stressed the need to raise the amount to replace them.
"I am forced to buy these one way or another; if I want to compete and represent my country. I am humbly asking for your kind help, any amount is appreciated and cherished," he said.