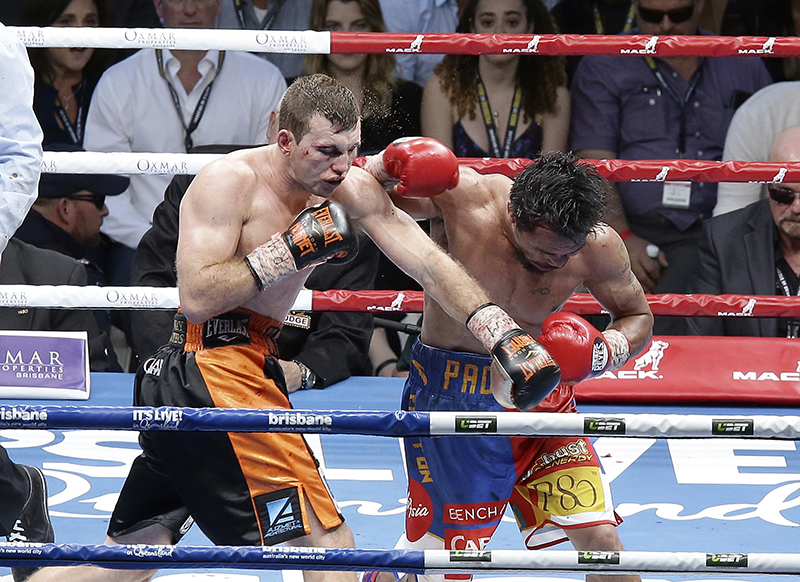 Jeff Horn of Australia, left, lands a left to Manny Pacquiao of the Philippines, right, during their WBO World Welterweight title fight in Brisbane, Australia, Sunday, July 2, 2017. | AP/Tertius Pickard
Horn vows to beat Pacquiao convincingly in rematch
MANILA, Philippines – Newly minted WBO welterweight champion Jeff Horn promised to leave no doubt when he beats Manny Pacquiao if they ever meet in a rematch.
In a report by CBS Sports, Horn insisted he did just enough to dethrone Pacquiao last Sunday at the Suncorp Stadium in Brisbane, Australia, a view not shared by everyone.
"It was a close fight but I edged it and I deserved the win," the 29-year-old Brisbane native said.
Horn won with scores of 117-111 and 115-113 (twice) to pull off the massive upset over Pacquiao, who, on the other hand, believes he deserves to win.
After allowing Horn to take him to the ropes and pummel him there in the early rounds, Pacquiao stormed back in the later rounds and had Horn almost out on his feet in the ninth canto.
But the former school teacher held on to survive until the final bell
"I felt off balance and overmatched in [Round 9] but I recovered quickly," Horn added.
Horn, a huge underdog entering the fight, said he believed knocking Pacquiao out was his best chance of winning the fight—and that he can't let the bout go into the scorecard.
"I thought it would be a little harder to get the decision. I thought I managed to get the decision but it was close. I thought it would be more of a knockout if I was going to win this fight," he explained.
Pacquiao has a rematch clause, and it's possible the Filipino icon will exercise it.
Horn, for his part, vowed to soundly beat Pacquiao if it happens.
"He's probably trying to talk up the rematch and we'll see if he really wants it. I'm happy to fight him again—I think I could beat him in even better fashion next time," he said.