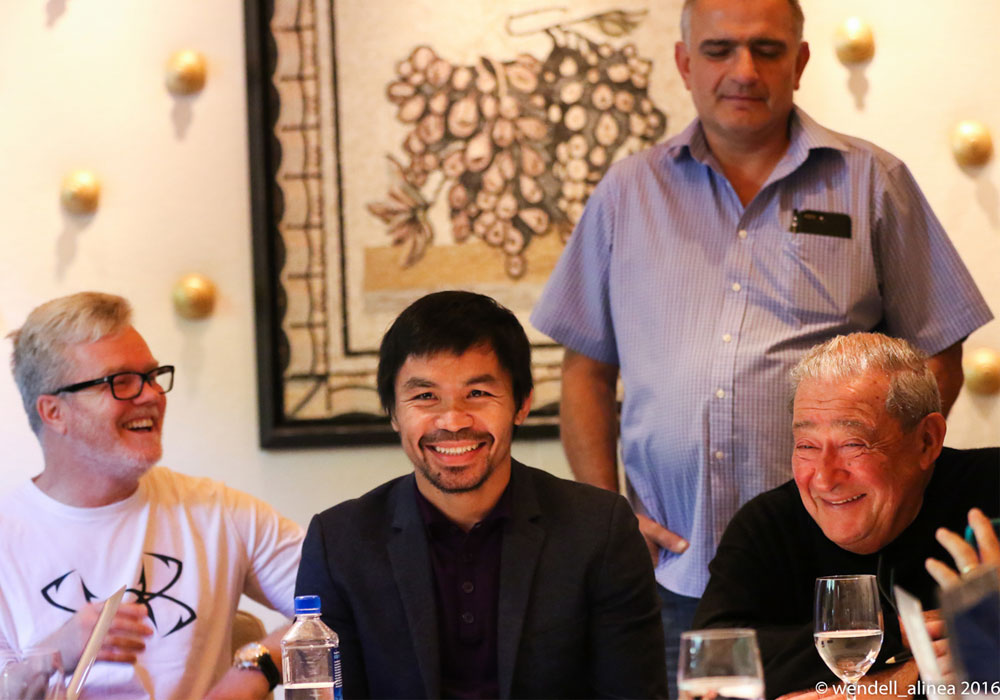 Manny Pacquiao is joined by trainer Freddie Roach, adviser Michael Koncz (standing) and promoter Bob Arum in this file photo. | Photo courtesy of Wendell Rupert Alinea
Pacquiao adviser says health, not money, is more important
MANILA, Philippines – Manny Pacquiao's top adviser is joining the rest of his team in seriously considering retirement for the Filipino icon in the wake of his latest loss to Australian Jeff Horn.
Michael Koncz, who has been helping Pacquiao run his boxing affairs for years, said the last thing they want to see is the Filipino getting seriously injured in the ring.
Koncz conceded that Pacquiao's best days in the ring are gone, as proven by how he struggled against the younger, bigger Horn last Sunday at the Suncorp Stadium in Brisbane, Australia.
"I saw a lot of things that I didn't want to see in Manny (against Horn). I've been with him for 14 years and were very close friends," Pacquiao's Canadian adviser told Philstar.com the other day at the lobby of Sofitel Brisbane.
Koncz, who was the first to arrive in Brisbane more than a week before Pacquiao took on Horn, was also the last one to leave the city to ensure every last detail of the boxer's latest gig has been dealt with.
Pacquiao lost the WBO welterweight title to Horn in a thrilling 12-round bout where the fighting senator showed a decline in his speed, movement and even power. In the ninth round, he almost had Horn out on his feet, but still failed to finish the Australian fighter off.
In the early rounds, Pacquiao let himself get bullied in the ropes by Horn, which wouldn't be the case had the fight been held years ago.
Koncz said the next course of action is to sit down with Pacquiao and talk about the future—including retirement.
"What's important to me is not money, but that he doesn't get hurt in the ring and he's very close to getting (hurt against Horn)," he added.
Pacquiao himself said he will consider hanging up his gloves, even though there is still the prospect of a rematch with Horn. His trainer Freddie Roach likewise thinks now may be the right time for his longtime fighter to call it quits.
Koncz, for his part, is also on the same page.
"We're gonna have to give some serious thought about stopping," said Koncz.