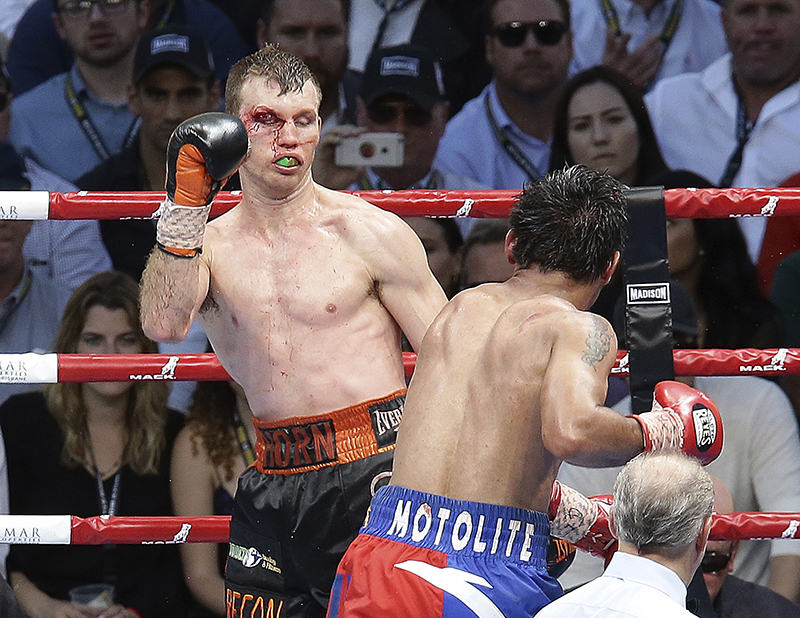 A bloodied Jeff Horn fought for survival in the ninth round of his fight with Manny Pacquiao at the Suncorp Stadium in Brisbane, Australia on Sunday. | AP
Horn turns to heart in surviving hellish round vs Pacquiao
BRISBANE, Australia – If Jeff Horn did not have the will, then the result of Sunday's bloody showdown with Manny Pacquiao could have been different.
The 29-year-old champion said his fighting spirit prevailed in getting through the bell in a hellish ninth round, where Pacquiao came almost close to stopping him at the Suncorp Stadium here.
"I guess my heart just kept me going. He got me with a couple of good shots in that round," a battle-scarred Horn told reporters in the post-fight conference.
He conceded to have lost the ninth round to Pacquiao, who pummeled him with power shots to the head, blows that would have knocked out any other fighter with a weaker spirit.
Horn said he was dazed when the round ended.
"I did go back probably more times in that round than any other round in the fight, but I still felt good. A bit blurry in that right eye; I don't know if it was from a head clash or a punch, but I came back in the 10th, 11th and the 12th (rounds)," the boxer continued.
Horn eventually survived to the final bell, and afterwards was crowned the new WBO welterweight champion with a stunning unanimous decision victory over Pacquiao.
Horn owed his unexpected victory to the early work he did against the Filipino icon, whom he forced to the ropes several times in the first three rounds.
But Pacquiao picked the pace up in the succeeding rounds, which culminated in that dominant ninth canto where he had Horn fighting for dear life.
Horn then shared he felt a sense of urgency when the referee, Mark Nelson, warned him that he is close to stopping the fight.
"So (trainer Glenn Rushton) let me know that we lost that round and Manny won that one, and the ref came over and said 'show me something or I'm gonna stop that fight.' I'm like hey, hold your horses, we're not that bad.' We can keep going for sure," he recalled.
That's exactly what Horn did—he kept going on, and ended up going the full 12 rounds against Pacquiao.