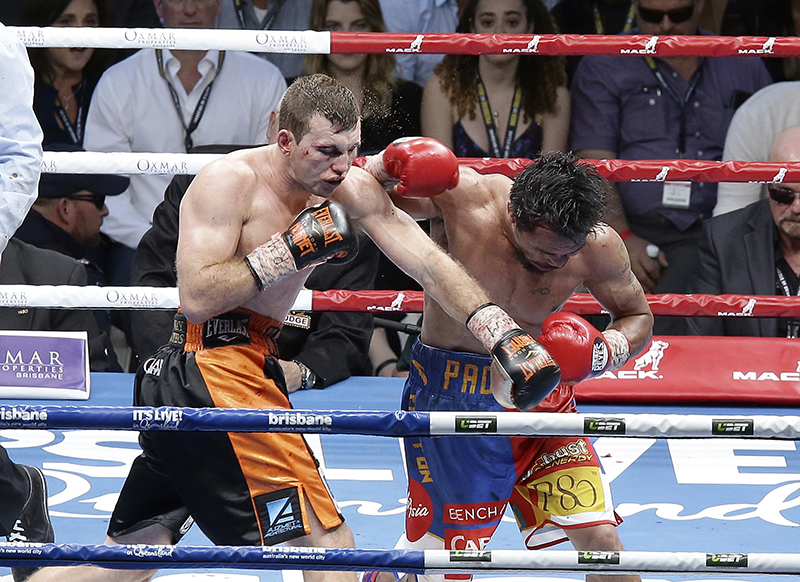 Jeff Horn of Australia, left, lands a left to Manny Pacquiao of the Philippines, right, during their WBO World Welterweight title fight in Brisbane, Australia, Sunday, July 2, 2017. | AP/Tertius Pickard
Pacquiao hampered by cuts vs Horn
BRISBANE, Australia – Manny Pacquiao's head was a bloody mess after his failed attempt at defending the WBO welterweight title against Jeff Horn at the Suncorp Stadium on Sunday.

It started in the sixth round, when an accidental clash of heads opened up the first of two nasty gashes on both sides of Pacquiao's head. And while his cutman Miguel Diaz did the best he could to deal with them, blood continued to trickle down the Filipino icon's face for the rest of the 12-round bout.

"It's tough," said Pacquiao on fighting with blood oozing from his head and into his eyes.

Pacquiao yielded the championship to a physically imposing Horn, losing on all three judges' scorecards, 111-117 and 113-115 (twice), in what's considered a massive upset that sent ripples across the nation's third largest city.

While Pacquiao felt he did enough to win, he conceded to being plagued by those two cuts, which he said prevented him from either taking Horn out during a decisive ninth round or finishing strong in the last couple of rounds.

"I mean, I'd like to knock him out in nine rounds but he survived," said Pacquiao, who had Horn fighting for dear life in the ninth canto but still managed to survive until the bell.

The 38-year-old Pacquiao entered the fight looking for that emphatic knockout victory that has eluded him since 2009 when he stopped Miguel Cotto.

Pacquiao felt he came close to ending that slump against Horn. And again, he fell short.

"At the ninth round I thought I'm gonna win the fight," he said in that short interview in the ring after the fight.

But Pacquiao said he won't dwell on his latest setback, stressing he respects the decision.

"I'm still here," he said.

Those turned out to be Pacquiao's last words for now, as he skipped the post-fight press conference to undergo stitches for the cuts.