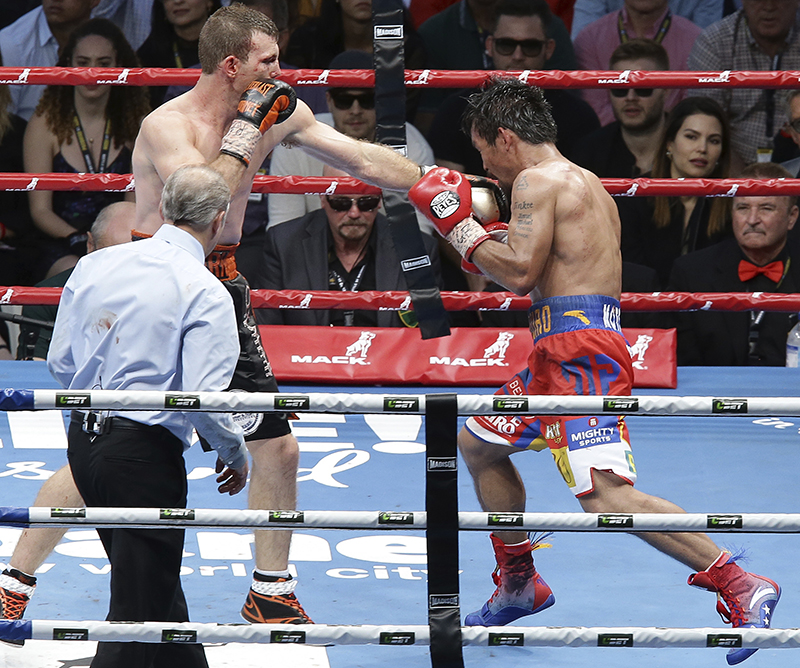 Jeff Horn of Australia, left, lands a left to Manny Pacquiao of the Philippines, right, during their WBO World Welterweight title fight in Brisbane, Australia, Sunday, July 2, 2017. Pacquiao lost his WBO welterweight world title to Horn in a stunning, unanimous points decision in a Sunday afternoon bout billed as the Battle of Brisbane in front of more than 50,000 people. AP/Tertius Pickard
Punch stats: Pacquiao landed more blows
(philstar.com) - July 2, 2017 - 6:30am
MANILA, Philippines — The internet was abuzz after the result of the WBO welterweight title bout between Manny Pacquiao and Jeff Horn was announced on Sunday.

Many fans and boxing experts felt that Pacquiao, then the reigning champ, dictated much of the fight's tempo.

After all, the numbers were all pointing to his favor.

But it was Jeff Horn who was crowned the new king.

According to CompuBox, a 32-year-old body that tracks statistics of major boxing events, Pacquiao landed more punch compared to his Aussie challenger.
Good news: Horn threw a fight-high 67 punches in the 12th. Bad news: landed just 8. Going to the scorecards for #PacquiaoHorn

— CompuBox (@CompuBox) July 2, 2017
Manny Pacquiao out landed Jeff Horn in 11 of the 12 rounds. Pacquiao out landed Horn, 182-92. #PacquiaoHorn

— CompuBox (@CompuBox) July 2, 2017
Here's a graphic representation of those digits along with the official numbers from the judges: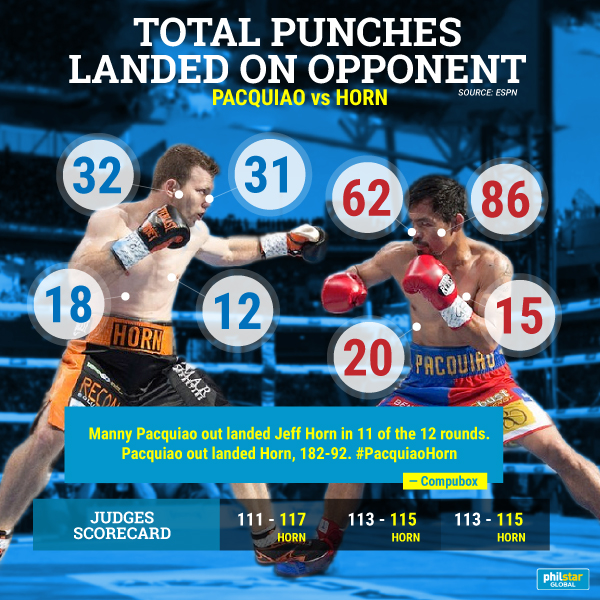 Via Philstar.com/Jonathan Asuncion
Take that for data!
So do you think that Pacquiao is still the rightful wearer of the belt? Or should he just let Horn enjoy the label for a while and retake it on their rematch? Sound off in our comments section below!