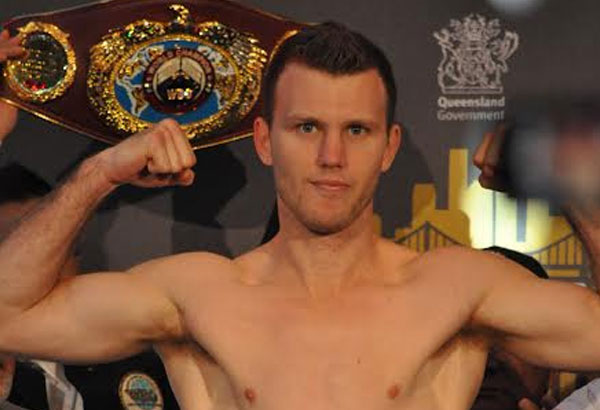 Jeff Horn | Wendell Rupert Alinea
Horn needs to fight 'perfect fight' vs Pacquiao, says trainer
BRISBANE, Australia – Jeff Horn cannot afford to mess around in front of Manny Pacquiao if he hopes to shock the world and pull off a massive upset on Sunday.
Horn's trainer Glenn Rushton said his ward has to keep his focus, which is a difficult thing to do once you taste Pacquiao's speed and power at the opening bell.
"We must be mistake free. It's very important in the early rounds that he (Horn) doesn't do anything foolish. We've got to make everything right," the outspoken trainer told reporters at the official weigh-in Saturday at the Suncorp Stadium, which is also the venue for Sunday's title fight.
Horn insists he's a man with the plan—a 10-point plan, to be specific, the way Rushton has been putting it throughout the promotion—to defeat Pacquiao.
But as the saying goes, everyone has a plan until they start getting hit.
And Rushton wants Horn to maintain his composure, unlike most of Pacquiao's previous opponents, singling out Ricky Hatton.
"We saw how Ricky Hatton did that. He just walked in and thought he could just bully him (Pacquiao) from the get-go. He came in too slow, he was too open. Ricky Hatton paid the price for not being respectful enough," Rushton recalled of Hatton's ill-fated attempt at beating Pacquiao up when they fought in 2009.
And for Horn to succeed, Rushton said the challenger has to neutralize the Filipino icon's deadly combination of speed and power.
"We gotta adapt to his speed, his power, and then we start to break him down," he said.
Horn's camp is also taking the advice of three-time Pacquiao foe Timothy Bradley, who is in town to call the fight as an analyst for ESPN.
"I think Timothy Bradley summed it up well yesterday when he said 'be cautious, proceed with caution. Don't be a fool,'" said Rushton.
At the same time, the trainer and investment banker acknowledged all this is easier said than done.
"This isn't going to be an easy day in the office."