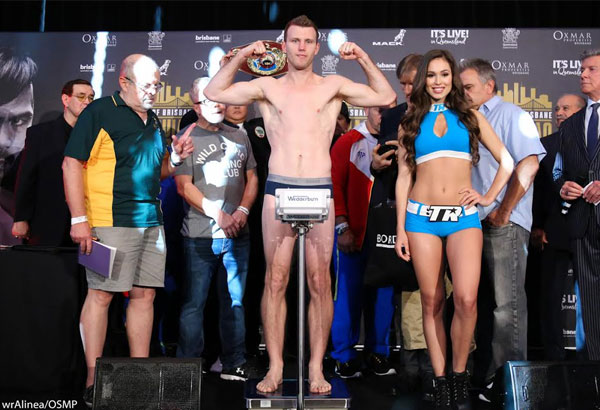 Jeff Horn poses while on the scales during the official weigh-in ceremony Saturday for his fight with Manny Pacquiao at the Suncorp Stadium in Brisbane, Australia. | Wendell Rupert Alinea
Horn relieved to make weight
BRISBANE, Australia – Jeff Horn heaved a huge sigh of relief upon knowing he met the welterweight limit of 147 pounds on Saturday morning's official weigh-in ceremony for his fight with Manny Pacquiao.
Now, the 29-year-old Brisbane native can focus on the huge task at hand, which is to dethrone Pacquiao, the WBO welterweight champion, at the Suncorp Stadium on Sunday.
Horn admitted he had a difficult time shedding the excess poundage the day before.
"It's never easy to cut that many kilos, but I'm feeling a lot better now putting the fluids back in," he told those who attended the ceremony that was held also at Suncorp.
Horn tipped the scales at exactly 147 pounds, finally allaying fears from his camp that he'll be over the limit.
"The next thing I'm gonna think about is no longer the weigh-in, it's the fight (itself)," added Horn, who said he had to skip some meals on Friday, spending most of that day working out in a sweat suit and sitting in the sauna.
Earlier this week, Horn told Filipino reporters that he still walked around heavier by six to seven pounds.
Even Horn's trainer, Glenn Rushton, admitted being concerned about his ward hitting the mark.
"It's never really easy. I was a little bit worried. We had two sets of scales to confirm his weight," Rushton told the press Saturday.
"I was very relieved to see 66.35 (kilos, or 147 pounds) up on those scales. It was great," added the outspoken trainer.
Horn, for his part, just can't wait for his date with Pacquiao.
"I woke up not in a good mood today...it's like he (Pacquiao)'s the one that made me do it (lose weight). He's making me make that weight. Game face is on," he said.