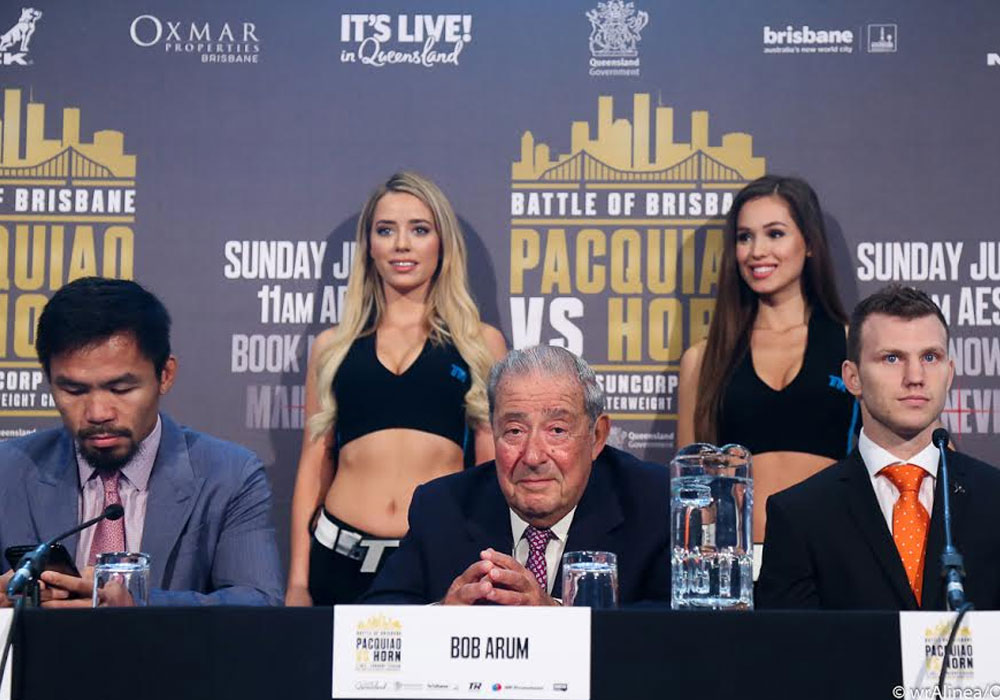 Manny Pacquiao (left) is seen looking at his phone during Wednesday's press conference for his fight with Jeff Horn. | Wendell Rupert Alinea
Horn, promoter chide 'texting' Pacquiao
BRISBANE, Australia – Manny Pacquiao spent the entire time during Wednesday's press conference for his fight with Jeff Horn looking at his mobile phone.
And Horn's promoter, Dean Lonergan of Duco Events, kiddingly called him out for it.
"I've attended four press conferences with Manny, he never gets off his bloody phone," Lonergan said when it was his turn to speak at the dais at a room inside Suncorp Stadium.
"I hope you take the phone into the ring and she'll be game over," he continued, causing the crowd to burst into laughter.
Pacquiao's eyes were glued to his mobile phone—often typing on it—for the most part of the two-hour presser that he failed to listen to a couple of questions. That prompted his adviser Michael Koncz and promoter Bob Arum, who are seated at Pacquiao's sides, to repeat the questions for the boxer.
"Manny Pacquiao is not only an eight-division world champion, but also a champion texter," Lonergan said when he introduced Pacquiao earlier.
Lonergan's comment may be delivered in jest, but deep inside, the respected promoter might have felt slighted.
Horn, for his part, said it is indicative of Pacquiao's disinterest to fight him on Sunday.
"I can't imagine him doing that at a (Floyd) Mayweather press conference," Horn said in a Fox Sports report.
"It definitely shows a bit of 'he doesn't care' attitude to the fight," added the 29-year-old challenger.
"Maybe we'll see he hasn't put in all the hard work they say he has."
Nevertheless, the Brisbane native chose not to make a big deal of it.
"I don't know if it's arrogance; I'm just used to that now," Horn said. "It gave me a laugh when Dean called him out on it, it was hilarious."