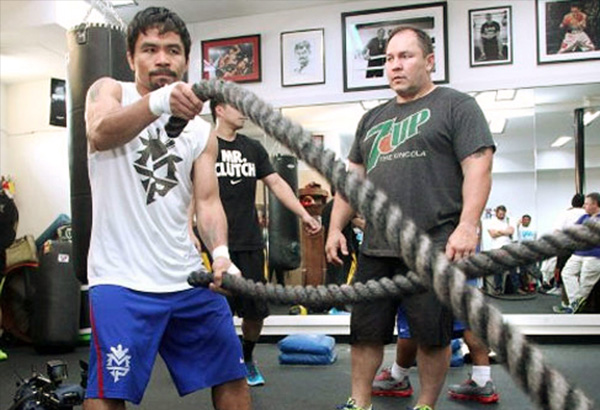 Australian strength and conditioning coach Justin Fortune supervises Manny Pacquiao's workout in this file photo.
Pacquiao unbeatable in conditioning, Fortune insists
BRISBANE, Australia – Manny Pacquiao's strength coach Justin Fortune said the Filipino icon would be hard to top as far as conditioning is concerned.
"This guy (Pacquiao) is ridiculous. You can't beat him in conditioning," Fortune told a couple of Filipino scribes at the sidelines of Pacquiao's media workout a gym inside Suncorp Stadium on Tuesday.
Fortune, an Australian, was reacting to claims made by the camp of Jeff Horn saying the 29-year-old prospect boasts fresher legs compared to the much older Pacquiao.
He just doesn't see his countryman Horn entering the ring on Sunday in much better shape than Pacquiao, whom he described as a "fitness freak."
"If he (Horn) expects to beat Manny on conditioning alone, that will never happen," added Fortune.
For weeks, Fortune supervised Pacquiao's workouts, and he's confident he has done his job well, as the Filipino icon achieved tip-top form at just the right time.
The results, according to Fortune, will be on full display when Pacquiao defends his WBO welterweight championship against Horn this Sunday.