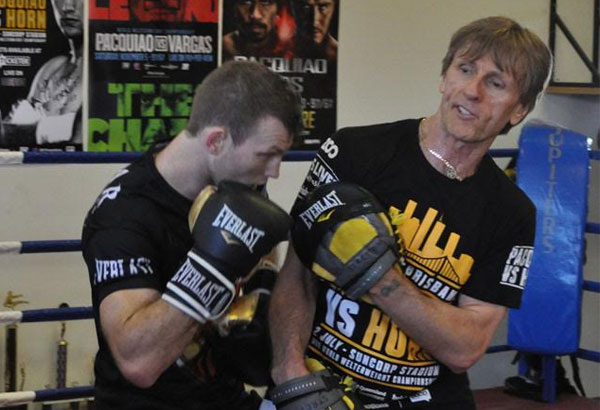 Jeff Horn works out with trainer Glenn Rushton on Monday in Brisbane, Australia. | Abac Cordero
Horn to follow Marquez blueprint vs Pacquiao
BRISBANE, Australia – Jeff Horn owes his strong belief in the possibility of defeating Manny Pacquiao to the Filipino icon's greatest archrival.
The 29-year-old Horn, out to shock the world on Sunday, admitted to focusing on Pacquiao's fourth fight with Juan Manuel Marquez in his quest for a massive victory.
"The Marquez knockout has definitely been the main point," the Brisbane native told the media on Monday before working out.
Horn, like others before him, will try to duplicate Marquez's success in scoring the most decisive win over Pacquiao.
"Marquez has fought Pacquiao brilliantly; (he's) the best to have fought Pacquiao. So he's someone whom we've looked at a lot," explained Horn, whose mind is still fresh with memories of the Mexican star's sixth-round knockout win over Pacquiao five years ago.
Marquez capped his epic four-fight rivalry with Pacquiao by having the last laugh when he caught his rival with a perfect counter right to knock him out cold in their 2012 duel in Las Vegas.
It was one of the best punches ever, as Marquez landed it on Pacquiao's face with pinpoint accuracy and tremendous power.
Now, Horn has made it his goal to repeat the same.
"And to land the same punch that Marquez did in that fight which is a big overhand right, that's definitely what we're looking for," he added.
Horn can't wait for Sunday to prove that he's capable of achieving the same feat.
"I've trained the hardest I've had for this fight and to finally get in the ring and show what I've done is all I want to do at this stage. I've finished all that hard work and I'm just ready to show that in the ring," Horn said.