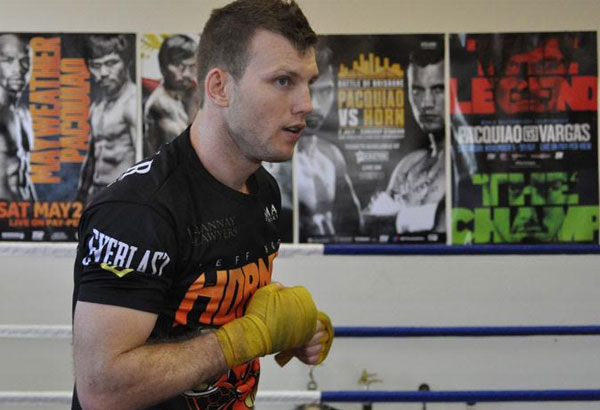 Jeff Horn during his media workout on Monday in Brisbane, Australia | Abac Cordero
Horn still overweight; trainer not worried
BRISBANE, Australia – With just six days left before his showdown with Manny Pacquiao, Jeff Horn is still over the welterweight limit of 147 pounds.
But the Australian prospect's camp isn't pushing the panic button.
"My current weight right now? I'm probably 71, 72 kilos," Horn told Filipino scribes during his media workout on Monday at trainer Glenn Rushton's gym inside his home this city.
This means Horn is walking at around 156 pounds—which is nine pounds over the welterweight limit.
Now, the 29-year-old Australian needs to work extra hard the next few days to shed the excess weight, which he said he will also try to regain after the official weigh-in ceremony on Saturday.
For his part, Rushton is confident his ward can make the welterweight limit, which is a must if Horn is keen at winning Pacquiao's WBO welterweight championship at the Suncorp Stadium here on Sunday.
Because if Horn tips the scales over the limit, the WBO title is off the table for him even if he defeats Pacquiao.
"We'll get through the weight," Rushton told the media.
If ever Horn is having weight problems, the licensed school teacher didn't seem affected by it, as he was in high spirits when he faced the press Monday. The former Olympian knows that defeating Pacquiao and winning the world title will be his ticket to boxing superstardom.
"If I can become a world champion on Sunday, it will fulfill all my dreams. I'll be a happy man," said Horn, who later on spent time shadow-boxing, hitting the heavy bag and working the mitts with Rushton.
He and Rushton are confident they have covered all bases and ready for whatever Pacquiao brings to the table.
"We're gonna adapt. If it's a brawl, it's going to be a brawl. If it's a long distance (fight), we're ready for that," said Rushton.