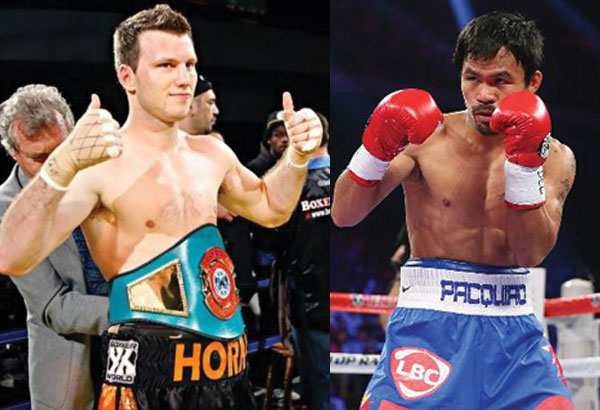 Jeff Horn and Manny Pacquiao
Horn to Pacquiao: Relax, I'm taking your belt
MANILA, Philippines – Jeff Horn wants Manny Pacquiao to enjoy his last remaining days as world champion.
Overflowing with confidence, the 29-year-old Horn vowed to take Pacquiao's WBO welterweight title when they lock horns next week. That's why he recently told the Filipino icon to take it easy when he arrives in Australia this week.
"He's arriving on Saturday and my message to him is relax and enjoy your stay in Brisbane because on July 2 I'm taking your world title," Horn told Grantlee Kieza of The Courier-Mail.
Pacquiao is set to depart for Brisbane on Saturday from his training base in General Santos City on board a charter plane, which will also carry about 300 members of his entourage.
He will be entering the fight as a huge favorite over the relatively unknown Horn, a licensed schoolteacher.
The challenger, for his part, expressed gratitude to Pacquiao for giving him the biggest fight of his career.
"But I have to first say thank you to him for giving me the chance. I never thought I would ever get the opportunity to fight for his world title and certainly not before a packed crowd at Suncorp [Stadium]," Horn added.
But again, the undefeated Australian stressed that he's about to end the Pacquiao era.
"He [Pacquiao]'s one of the greatest boxers in history and people in Australia have supported the fight because of his name and the chance to see an Aussie against him. But I believe this is the start of a new era in boxing and a changing of the guard," said Horn.