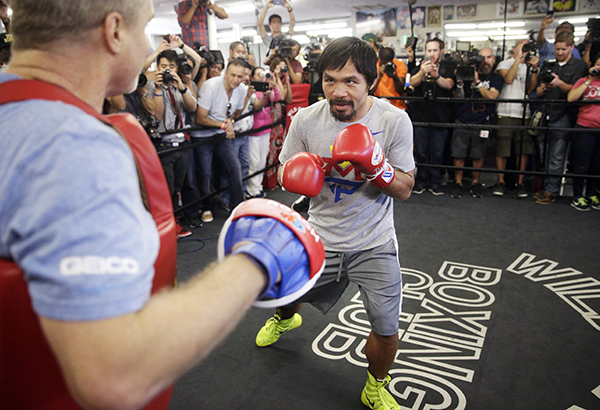 Pacquiao knocks down sparmate in General Santos
MANILA, Philippines - Filipino boxing icon Sen. Manny Pacquiao reportedly knocked down one of his sparring partners last Saturday in General Santos City during his buildup for the "Battle of Brisbane."
The WBO welterweight title clash with Australian Jeff Horn is less than two weeks away, and the 38-year-old Pacquiao is just about to wrap up his training.
Pacquiao should be nearing peak form if he's not there yet as the number of sparring rounds go down each day until the Filipino champion flies to Brisbane on June 24.
A member of Team Pacquiao yesterday said Mexican sparring partner Adrian Young went down once from an uppercut during his session with Pacquiao.
It's a good sign that Pacquiao still has the power behind those punches.
And from Brisbane, word is that Horn's trainer, Glenn Rushton, spent hours over the weekend going through the tapes of Pacquiao's most recent fights.
The Courier Mail, which has followed Horn in training every step of the way, said Rushton has come up with "10-point blueprint" that should lead to an upset on July 2.
The title fight is the biggest boxing match in Australian history, and it's expected to attract over 50,000 fans at the Suncorp Stadium.
Rusthon must have had in his hands tapes of Pacquiao's defeats in the hands of Timothy Bradley, Juan Manuel Marquez and Floyd Mayweather Jr.
"The guys who have beaten Manny in recent years have all been wise, experienced fighters – Floyd Mayweather, Tim Bradley and Juan Manuel Marquez," he said.
"It's no good trying to rush Manny trying knock his head off. Jeff has to wait for his chance," Rushton told The Courier Mail.