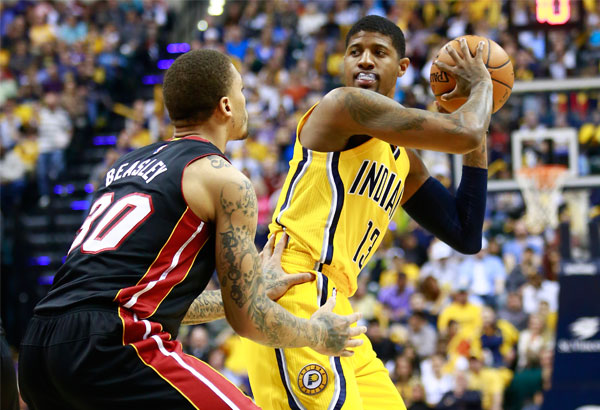 Indiana Pacers forward Paul George, right, controls the ball as Miami Heat forward Michael Beasley defends in the second half of an NBA basketball game Sunday, April 5, 2015, in Indianapolis. Indiana won 112-89. | AP Photo/R Brent Smith
George informs Pacers he will leave in 2018 according to sources
The Indiana Pacers' timeline for making a decision on star forward Paul George just kicked into overdrive.
George's camp has informed the Pacers that the four-time All-Star intends to leave in the summer of 2018 when he becomes a free agent, two people with knowledge of the situation told The Associated Press on Sunday night. The people spoke on condition of anonymity because neither side publicly discusses unresolved personnel matters.
George has spent all seven of his NBA seasons in Indiana, emerging as one of the league's top players. He averaged a career-high 23.7 points and shot 46 percent last season, but the seventh-seeded Pacers were swept by Cleveland in the first round of the Eastern Conference playoffs. The steady decline in competitiveness of the franchise, and LeBron James' dominance of the conference, has led George to look elsewhere as he nears free agency next summer.
The Pacers' chances of keeping George also took a big hit when he was not voted to one of the three All-NBA teams after this season. Had he been voted in, George would have qualified for a super-max contract worth about $210 million over five years, a staggering sum that may have been too much to turn down. Instead, the Pacers are able to offer him around $177 million.
George's declaration puts the Pacers on the spot. They can either try to trade him this summer in hope of getting a package of players and draft picks that can at least help them try to make up for the loss of a foundational star, or they can try to keep him for this season, make some other moves around him to improve the roster and hope they can change his mind.
It's quite a test for Kevin Pritchard, who took over as the chief decision-maker in the Pacers front office after Larry Bird abruptly stepped down after the season concluded. Pritchard is well-respected across the league and has considerable experience from his time running the show in Portland. He also spent several years under Bird in Indiana, which gives him the familiarity of the roster and George to make an informed decision.
Complicating matters is the widely held belief across the league that George wants to return to his native California to play for the Los Angeles Lakers. That means any team other than the Lakers that makes a play for George this summer runs the risk of giving up considerable assets for a one-year rental. That could force the Pacers to push their asking price down after resisting significant offers from the Boston Celtics at the trade deadline in February.
Yahoo! Sports first reported that George's camp made his feelings known to the Pacers on Sunday.