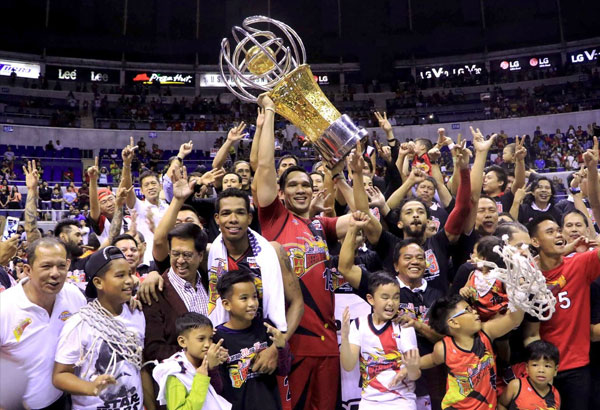 San Miguel Beer, after two close shaves that cast doubts on its championship form, finally asserted itself as the reigning Philippine Cup three-peat champ, barnstorming to a 17-point lead to take the fight out of Star, 109-102, and secure the first berth in the PBA Commissioner's Cup finals last night at the MOA Arena. File
Beermen stamp class, reach finals
Game today (Cuneta Astrodome)
5 p.m. – Ginebra vs TNT KaTropa
MANILA, Philippines - San Miguel Beer, after two close shaves that cast doubts on its championship form, finally asserted itself as the reigning Philippine Cup three-peat champ, barnstorming to a 17-point lead to take the fight out of Star, 109-102, and secure the first berth in the PBA Commissioner's Cup finals last night at the MOA Arena.
Largely behind the big games of Alex Cabagnot, Chris Ross and June Mar Fajardo, the Beermen disposed of Ricardo Ratliffe and his Star teammates and lined themselves up for a shot at a second crown this season versus the winner of the TNT KaTropa-Barangay Ginebra semis faceoff.
Cabagnot, the Best-Player-of-the- Conference leading contender, sizzled with 26 points, six rebounds and five assists, with Ross and Fajardo producing all-around games as they advanced to the finals for the fifth time in the last eight conferences.
For the record, they have a perfect 5-of-5 winning mark under coach Leo Austria.
"The guys just showed they're still hungry after all our championships in the last three years," said Austria.
"They showed their championship caliber, and while Charles (Rhodes) struggled due to early fouls, our other starters worked hard and proved they're the best all-Filipino core group in the league," Austria also said.
The Beermen created an unbridgeable gap in the third period, 83-69, and played relentlessly to the very end to write finis on the Hotshots' own finals aspiration.
They won the series at three-games-to-one as they strung up three straight victories after dropping Game One. They sealed the series clincher following thrillers of triumphs in Game Two (77-76) and Game Three (111-110).
Rhodes couldn't match Ratliffe's monstrous numbers but Cabagnot, Ross and Fajardo did it against their local counterparts.
Rhodes was emotional at the buzzer.
He collected 24 points, 10 assists and four rebounds, Fajardo piled up 22 markers, eight boards and two dish-offs while Rhodes contributed 21 points and 10 rebounds.
Ratliffe was a workhorse just like in the first three games, coming through with dominant numbers of 36 points and 17 rebounds.
The Beermen made a decisive move as they held Ratliffe to two baskets in the third period.
From a 52-49 lead at the half, the Beermen surged to an 83-69 spread at the end of the third and stayed in control to the finish.
NOTES: TNT import Josh Smith showed up in practice yesterday and made an assurance he's ready to play as they take their second shot at finishing off Ginebra in their semis series tonight at the Cuneta Astrodome. Result of Smith's MRI test showed he sustained a slight ligament tear. "There's pain but I'm ready to play through it. I'm one win away (from the finals). I've been with the guys for a month and a half, and I can't leave them now," said Smith. "The morale of the team really went down when they saw Smith limp off the court in Game Three. When he joined the team in practice (yesterday), everybody was pumped up. The team is back in high spirit," said a team official.
The scores:
SAN MIGUEL 109 – Cabagnot 26, Ross 24, Fajardo 22, Rhodes 21, Lassiter 8, Santos 4, Heruela 3, Espinas 1, Tubid 0.
STAR 102 – Ratliffe 36, Maliksi 16, Barroca 13, Sangalang 11, Ramos 9, Lee 8, Jalalon 6, Simon 3, Melton 0, Reavis 0.
Quarterscores: 29-27, 52-49, 83-69, 109-102